Most of us have that same Pavlovian response.  Someone says football; everyone thinks chili.  Usually the typical "ground beef+chili powder+boatloads of cumin" type. So, because I'm more of a South-of-the-Border guy, I'm offering you this "best of all worlds"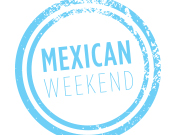 chili made with chunks of beef and pork and a rich chili sauce made from ancho pods (sometimes called pasilla chile pods on the West Coast) and thickened with powdered corn masa.  It's easily doable, and the results are truly amazing, especially when you grind the cumin fresh.  You'll win chili cook-offs with it, just as we have. 
PS: those ancho chile pods are available at well-stocked supermarkets and all Mexican grocery stores.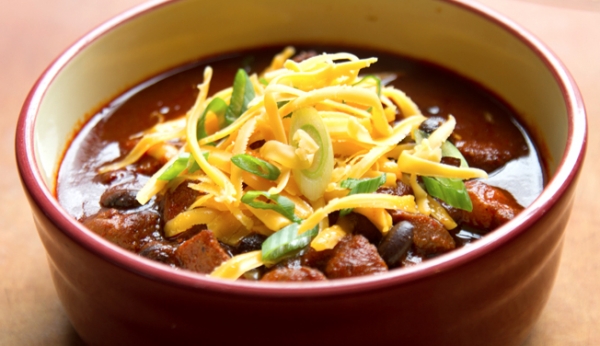 Here's an adapted version of the  Uptown Texas Chili that we serve in Frontera.  We use white runner beans and top it off with finely shredded dry Jack cheese, white onion, and chopped cilantro.
Ingredients
Ancho Seasoning Base

8

large

garlic cloves, unpeeled

8

medium (about 4 ounces total)

dried ancho chiles

1 1/2

teaspoons

dried oregano,

preferably Mexican

1/2

teaspoon

black pepper, whole or freshly ground

1/8

teaspoon

cumin seeds, whole or freshly ground

A scant 1/4

teaspoon

cloves, whole or freshly ground

Salt, about 1 teaspoon

Chili

1

tablespoon

bacon drippings or oil

2

pounds

meat (I prefer half pork shoulder and half beef chuck) cut into 1/2-inch cubes

1

large

white onion, chopped

4

cups

beef broth OR 3 cups broth and 1 cup Negra Modelo Beer

Salt

Sugar

About 1

cup

canned tomatoes (optional)

2

tablespoons

Masa Harina

About 2

cups

of your favorite cooked beans, either homemade or canned
Instructions
Set a heavy ungreased skillet or griddle over medium heat. Lay the unpeeled garlic on the hot surface and let it roast to a sweet mellowness, turning occasionally, until soft when pressed between your fingers (you'll notice it has blackened in a few small spots), about 15 minutes. Cool, then slip off the papery skins and roughly chop.
While the garlic is roasting, break off the stems of the chiles, tear the chiles open and shake and/or pick out all the seeds. For the mildest sauce, be careful to remove all the stringy, light-colored veins. Next, toast the chiles (to give them a richer flavor) a few at a time on your medium-hot skillet or griddle: open them out flat, lay them on the hot surface skin-side up, press flat for a few seconds with a metal spatula (if the temperature is right you'll hear a faint crackle), then flip them. (If you pressed them just long enough, they'll have changed to a mottled tan underneath. If you see a slight wisp of smoke, it's okay, but any more than that will mean burnt chiles and bitter taste.) Now press down again to toast the other side (you won't notice as much change in color on the skin side). Transfer the toasted chiles to a bowl, cover with hot water and let rehydrate for 30 minutes, stirring regularly to insure even soaking. Pour off all the water and discard.
If using whole spices, pulverize the oregano, pepper, cumin and cloves in a spice grinder or mortar, then transfer the ground spices to a food processor or blender, along with the drained chiles and the garlic. Measure in the broth and process to a smooth puree, scraping and stirring every few seconds. (If you're using a blender and the mixture just won't move through the blades, add more broth, a little at a time, until everything is moving, but still as thick as possible. Not only is a watery marinade uninteresting, but the pureeing capabilities of the blender are much reduced when too much liquid is added.) With a rubber spatula, work the puree through a medium-mesh strainer into a bowl; discard the skins and seeds that remain behind in the strainer. Taste (it'll have a rough, raw edge to it), then season with salt.
In a large, heavy skillet or Dutch oven filmed with oil or bacon drippings, fry the meat and onions over medium-high heat, until nicely browned; drain off most of the fat. Add a full recipe of the ancho seasoning, stir for several minutes to temper the raw flavor.   Partially cover and simmer gently for an hour, until it looks like chili; season with salt and a touch of sugar. If you like a less intense flavor, add 1 cup or so of blended canned tomato along with the broth.  Mix together masa harina and a little bit of  water, then whisk it into the chili during the last few minutes of simmering.  Just before serving, stir in the cooked beans. Continue cooking until the beans are warmed through.