OK, so it's not the most traditional Easter brunch dish, but the benefits of cooking these chilaquiles are two-fold — one, this relatively simple recipe feeds a big crowd, and two, they're absolutely delicious.
Instead of a simmering stint on the stovetop, these chilaquiles are finished in a baking dish with a 10-minute stay in a hot oven, allowing the tortilla chips, melting cheese, sauteed onion, roasted tomatillo salsa and chicken stock a little extra time to meld together.
The end result? Magic.
Key here is using thick tortilla chips. Use the thin variety and you run the risk of the whole dish turning mushy. (They'd still be tasty, of course, but less memorable.)
Pair it all with a big side salad — here's a simple, great dressing — and you have a meal suitable for your Sunday best.
Wine pairing:  For bubbles, try the NV Cava Avinyó from Penedès, Spain to add a celebratory mood to your brunch. For white wine,  I would suggest a dry Riesling from Germany such as the 2013 Pflüger Riesling "Buntsandstein" from Pfalz, Germany.  It is a fantastically zesty, crisp, dry Riesling from a small family winery that uses the most environmentally friendly biodynamic practices. — Jill Gubesch, sommelier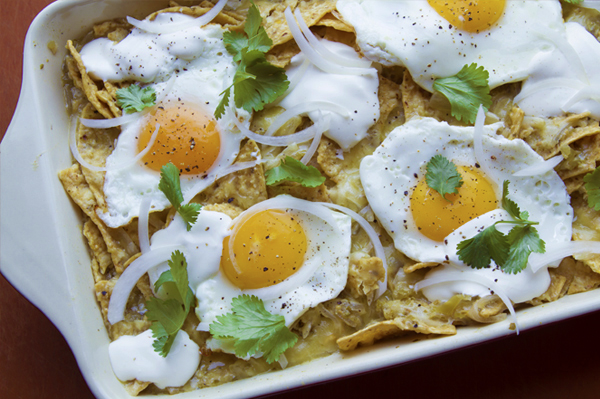 Recipe From Season 6 of Mexico - One Plate at a Time
Ingredients
3

tablespoons

vegetable oil

2

large

white onions, sliced ¼ inch thick (divided use)

3

cups

jarred tomatillo Salsa

(1 ½ 16-ounce jars) or homemade

3

cups

chicken stock

1 1/2

cups (6 ounces)

shredded Mexican melting cheese (such as Chihuahua) or Monterey Jack, brick or mild cheddar (divided use)

12

ounces

tortilla chips, preferably thick, homemade-style ones (such as those from a tortilleria or a Mexican grocery store)

3/4

cup

Mexican crema,

creme fraiche or sour cream thinned with a little milk or cream

1/2

cup

freshly grated Mexican queso añejo

or other garnishing cheese such as Romano or Parmesan (optional)

A

handful of

cilantro leaves, for garnish

6

sunny-side-up eggs for serving (optional)
Instructions
Preheat your oven to 300 degrees.  In a large (4-quart) pot, heat the oil over medium-high. Add about 2/3 of the onion and cook, stirring regularly, until richly browned, 8 to 10 minutes.  Add the salsa and broth and bring to a rolling boil.  Turn off the heat and stir in 2/3 of the shredded cheese.
Pour the chips into a 13x9 inch baking dish and cover with the sauce, gently pressing the chips into the sauce, breaking up larger pieces, so that all of the chips are coated.  Sprinkle with the remaining 1/3 of the shredded cheese.  Cover the baking dish with foil, being careful not to let the top of the chips touch the foil.  Slide into the hot oven to heat through, 8 to 10 minutes.  When the chilaquiles are bubbling, remove from the oven, drizzle with the crema and sprinkle with the remaining onion.  Top with the queso aňejo and cilantro, and the optional sunny side up eggs. Serve without hesitation.