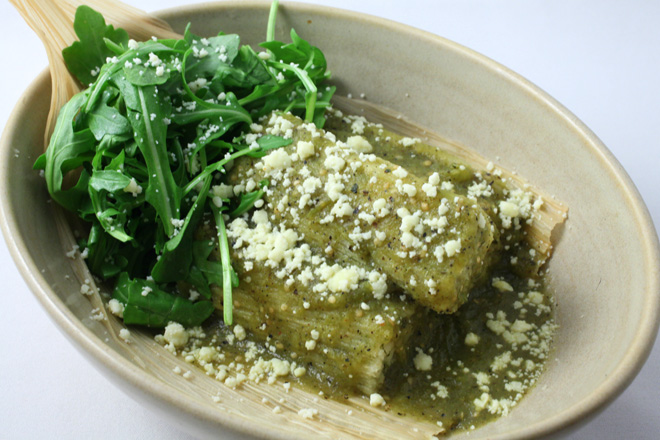 Swiss Chard Tamales Fresh corn masa tamales flavored with local Swiss chard, serrano chiles, cilantro and parsley. Tangy tomatillo sauce, homemade fresh cheese, arugula salad.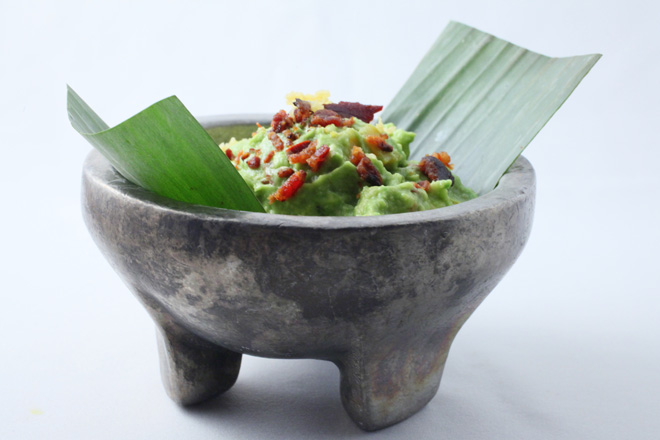 Bacon Guacamole, Fall Version Michoacan avocados, smoky morita chile, crispy Gunthorp bacon, bits of brown-butter butternut squash, grilled knob onions, dry Jack chicharrón.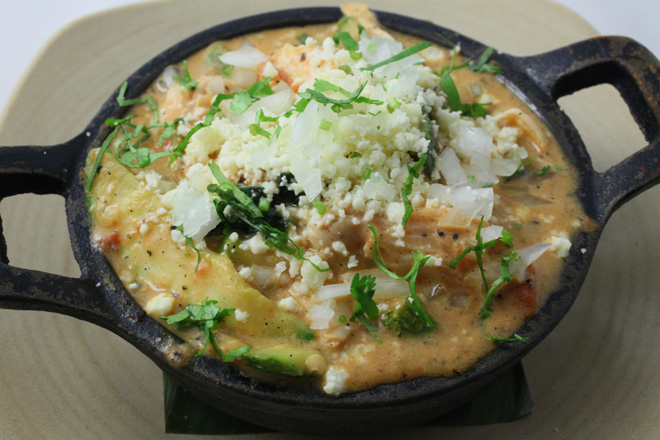 Chicken with Salsa Huevona Crema For making little soft tacos. Grilled Gunthorp chicken
breast, salsa huevona, housemade crema, Indiana Jack cheese, kale, tatume squash.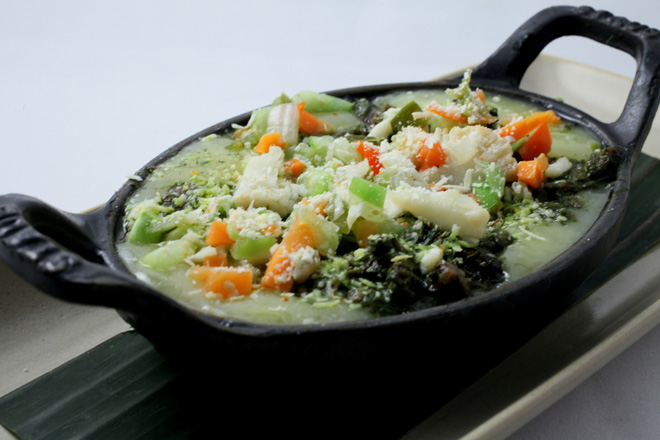 Skirt Steak Queso Fundido Wisconsin Organic cheddar, herby grilled skirt steak, pickly chopped salsa, Mexican cincho cheese.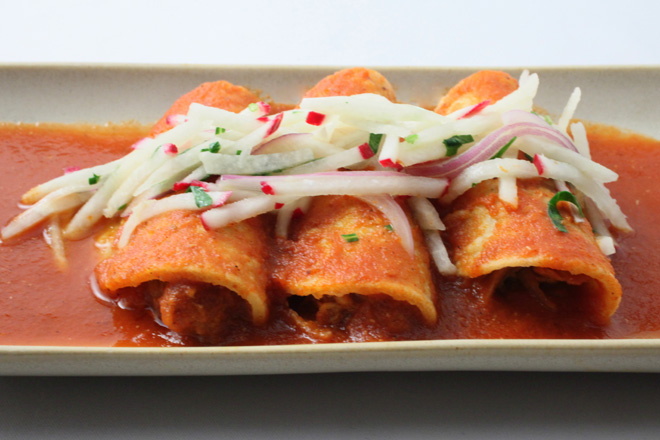 Smoked Pork Enchiladas Smoked Gunthorp pork shoulder flavored with achiote, habanero,
sour orange and epazote. Tomato-habanero sauce, xnipec salsa.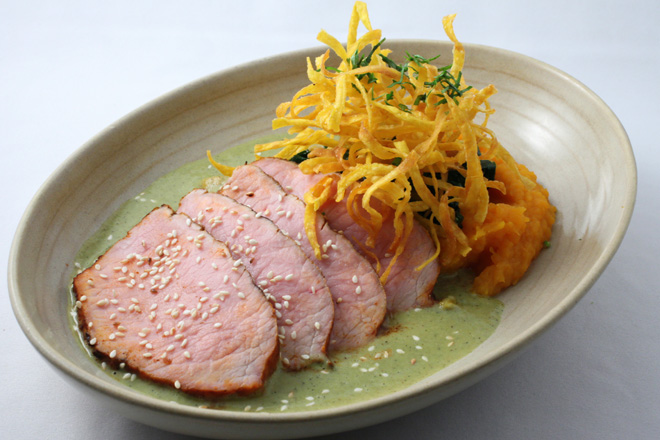 Pork in Tomamole Grill-roasted Gunthorp pork loin, tomamole, roasted butternut mash,
braised black kale, crispy butternut ribbons.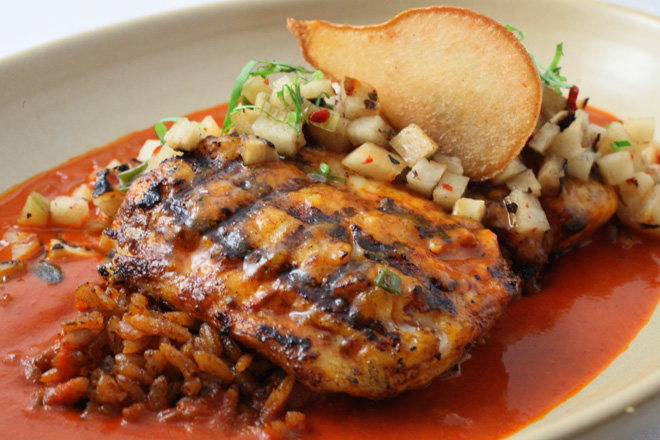 Striped Bass with Guajillo-Pear Sauce Grilled chamoy-glazed Florida striped bass, zesty
guajillo-pear sauce, red chile rice, grilled pear salsa, pear chips.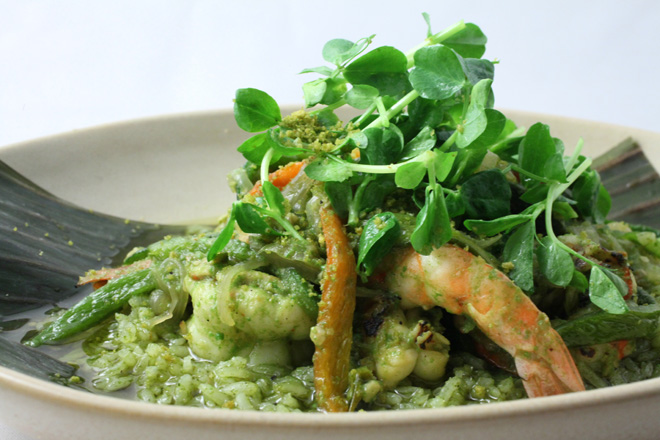 Shrimp Mojo de Ajo Spicy grilled fresh Gulf shrimp, mojo de ajo, herby green rice, poblano chile, Three Sisters Garden pea shoots, shrimp crunch.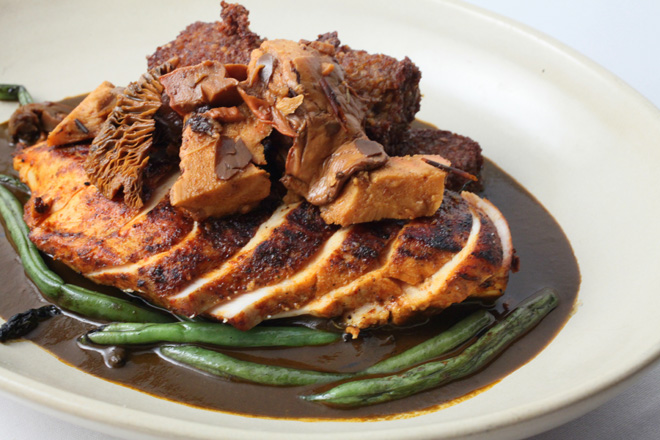 Chicken in Pasilla-Huitlacoche Sauce Grilled Gunthorp chicken, inky sauce of pasilla
chile and huitlacoche, crispy tortitas, grilled green beans, pickled local wild mushrooms.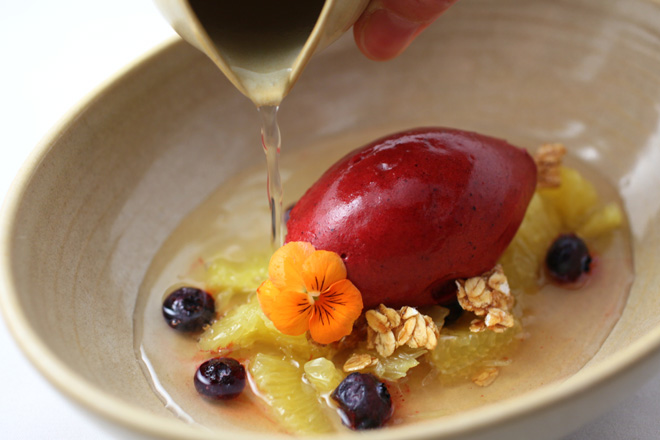 Sopa de Fruta Klug Farm blueberry sorbet, orange supremes, frozen Klug Farm
blueberries, sparkling moscato-like "broth."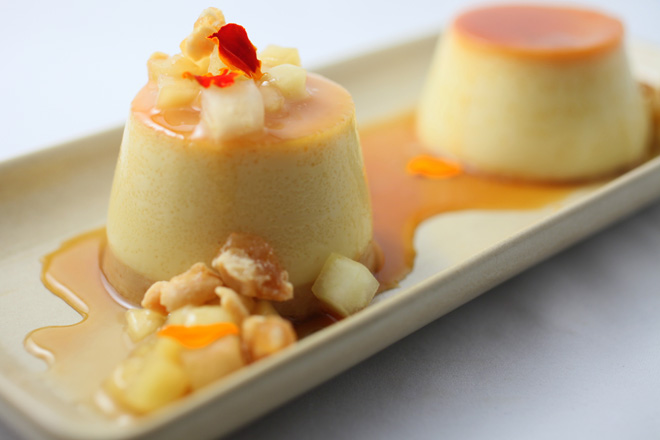 Duo de Flanes Traditional Mexican vanilla flan and creamy peanut butter flan. Nichols Farm apples two ways, caramelized peanut crunch.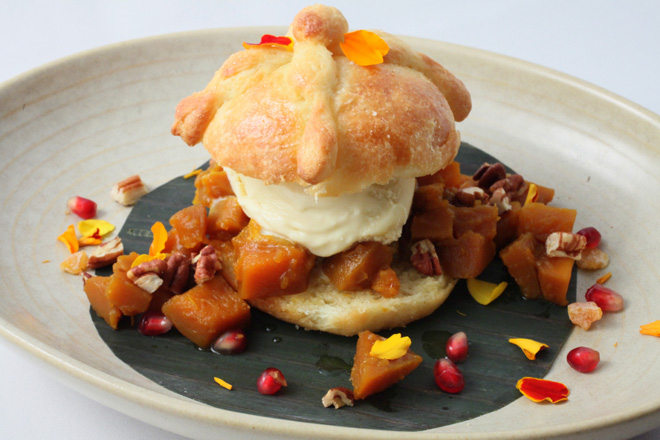 Pan de Muerto Warm, buttery brioche "Day of the Dead Bread" layered with piloncillo ice cream,
local pumpkin and toasted pecans.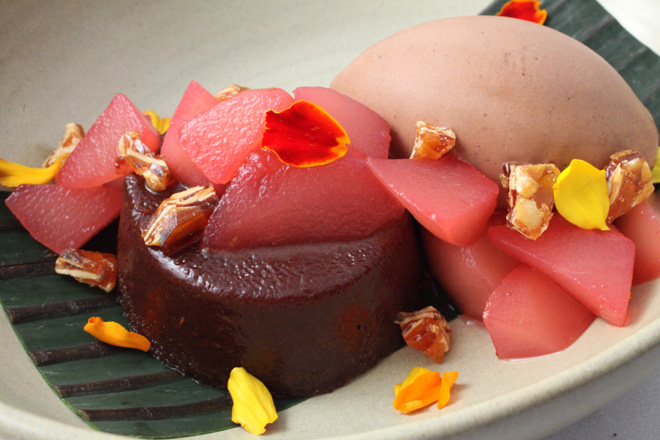 Boca Negra Gooey chocolate ganache cake, hibiscus poached pears, Mexican chocolate ice cream, chocolate crumble, almond brittle.
There's so much #want on Frontera's new menu. An incomplete list:
Those crispy, bacon-stuffed tortitas that come with the pork.
The duck carnitas stuffed in the tamal.
VANILLA-POACHED RHUBARB
We repeat: The above list is incomplete. But scroll through the photos above and you'll soon have a long list of your own.