Topolobampo culinary director Andres Padilla, Chef Rick Bayless and Deann Bayless recently returned from a trip to the Mexican state of Chiapas, the country's southernmost state that will serve as inspiration for Toplobampo's next menu. Here, Padilla shares his experience visiting San Cristóbal's city market, with its hog butchers, pastry vendors and some of the very best produce he's ever seen in Mexico.

Flying into Chiapas was wild.
As we started to make our descent, there were mountains as far as the eye could see. They were dark green with pine at the tops and more tropical, jungle-like vegetation about halfway down.
We landed in Tuxtla Gutierrez, which sits about 1,770 feet above sea level, the central depression of the state. It was hot, like 90 degrees.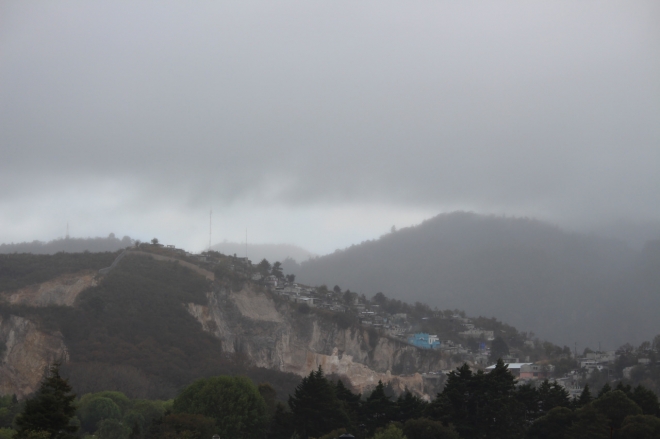 After a quick lunch of "comida chiapaneca" including some standout chanfaina, we made our way towards San Cristóbal, which sits about 7,200 feet above sea level and is surrounded by mountains and peaks.
We crossed the mighty Grijalva River and started to make our ascent with breathtaking views of the river valleys below.
Just three feet to the right of our speeding van — traffic moves fast in Mexico — there are 500- to 1000-foot dropoffs and the van would get closer when other cars would try to pass. It definitely had me a little on edge, but I was stoked none the less as the views were stunning!
We finally arrived in San Cristóbal de las Casas, the cultural capital of Chiapas where the Spanish influence is completely dominant. It's in the food, the people, the culture, the architecture, the churches.
Still, the indigenous culture is weaved throughout the population.
You can see the indigenous influence in the clothes and threads people wear and the dialect they speak. It is a lot like Oaxaca City in this sense — the main roads in town seem very modern, with big box stores, but once you go into the Historic district, the streets are even more narrow than those of Oaxaca.
The Market

The "municipal mercado" is not very big, but it has a huge energy like Mexico City's Mercado de la Merced.
The produce here is outstanding, some of the very best I've ever seen in Mexico.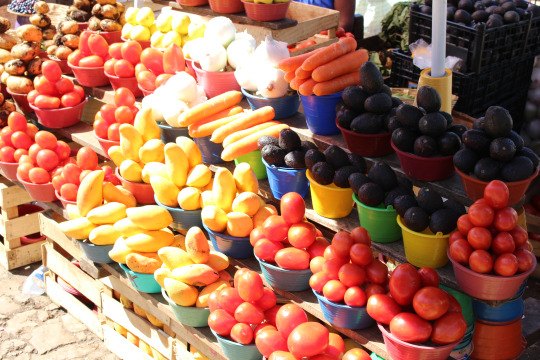 Sold mostly by the area's indigenous people, the produce stalls were packed with great greens, sweet and colorful tropical fruits like mandarin and rambutan, beans, potatoes, corn, carrots, herbs, beets, onion, large, thick-skinned chayote and the interesting chayote root, which they called "quesa."
It's all ripe, amazing and beautifully displayed.
Vendors also sold two chiles I've never seen in anywhere else in Mexico: simojovel chile, a small, dried red chile with intense heat and pico de paloma, small but similar to a guero in color, but very intense in heat.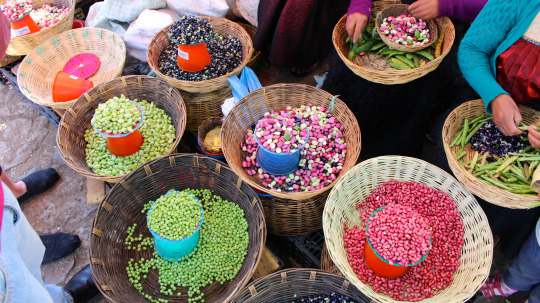 And that's just outside of the market.
Step in and you're greeted by a few prepared pastry stalls selling a variety of breads, empanadas, jamoncillos, and casuelejas, a local, almost sweet bread made for celebrations.
Beyond that are the meat vendors, all proudly displaying the viscera of pigs.
All of the pork butchers have their own islands of this large warehouse size room. (The beef butchers are situated all around the outside perimeter, almost like outcasts but they too have the viscera displayed along with whole heads, tails, and even meat all the way to hoof.)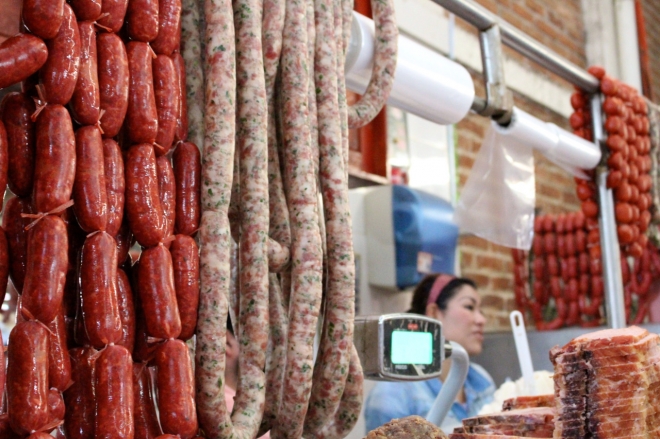 The pork stalls were quite astonishing with their chorizo and longaniza hanging on display in addition to the usual cuts you find at the market.  Some were darker than others and some more smoky, but all seemed to be made in the same vein.
Ancho chile is the primary chile used for the chorizo, and they add a touch of achiote for flavor as well as color.  Both are very tasty and quite different from what we are used to.
One last thing about San Cristóbal is the Spanish tradition of charcuterie. In addition to longaniza, chorizo, and butifarra in the markets, we came across some beautiful hams, some cured very gently and some that were like jamon serrano.
Another thing that we are not used to is the tasajo from here. It's made very thick and then salted and dried.  It's used in a dish called "comida grande" with a very simple sauce made from pumpkin seeds.  It gets boiled, but it never gets tender or loses much salt content.
Towards the back of this big room, there were three fish stalls that had a lot of blue crab, frozen shrimp (and some fresh), robalo, snapper, and tilapia.
Sprinkled throughout the market were little vendors selling cheese, mostly queso de bola and queso doble crema.  We did see butter in one of these stalls as well.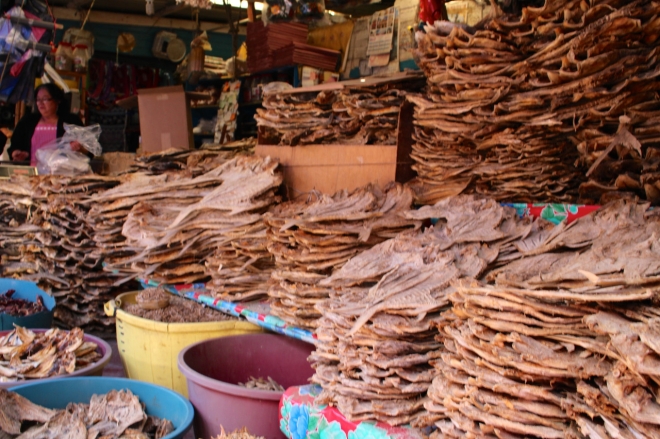 Just beyond those stalls, in the corner and down a long hall way was mountains of dried, salted fish.  As you can imagine, the smell was … well, let's just leave it to your imagination.
Overall, the market was an unforgettable experience.
It was was so vibrant, not only in color, but in spirit, the energy and pride in all the ingredients that were available was just so incredibly inspiring.
For more photos from the trip, see Chef Andres Padilla's Tumblr page.