This winter, Frontera Grill, Topolobampo, Xoco River North and Xoco Wicker Park will celebrate the holidays with special hours and two fabulous New Year's Eve celebrations. We will also close our restaurants for some holidays. Scroll down for complete details. SPECIAL HOLIDAY HOURS Frontera Grill and Topolobampo will open for rare Sunday and Monday night dinner … Continue reading Special Holiday Hours at Topolo, Frontera and Xoco →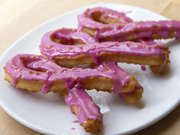 October is National Breast Cancer Awareness Month, and Xoco's getting involved: On Thursday, October 16th, both Xoco River North and Xoco Wicker Park will unveil a hot-pink churro. This bright new offering (the color comes from Red Hots) is being sold with one goal: To raise money for breast cancer research. $1 from each sale will go to the … Continue reading Xoco goes pink for breast cancer awareness →
A few weeks ago Rick teamed with Wilco drummer Glenn Kotche for a unique evening of food, cocktails and sound. The event—a fundraiser for the Frontera Farmer Foundation—was one of those nights you just can't replicate. But check out these videos and for a minute or two, you'll feel like you were there.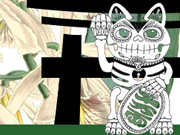 On Sunday, October 12, Frontera and Arami are joining together to create a one-night-only Mexican-Japanese pop-up. The fun part (well, one of the fun parts): It's something of a family affair. The lead chefs behind the event are Lisa Despres, Topolo's sous chef, and her husband, Fred Despres, who is the chef at Arami. What does a … Continue reading The Frontera-Arami Mash-up: It happens October 12 →
Alex Stupak threw down the gauntlet, and Rick accepted. Behold, Rick's version of the #ALSIceBucketChallenge! Curtis Duffy and Enrique Olvera, you're up.