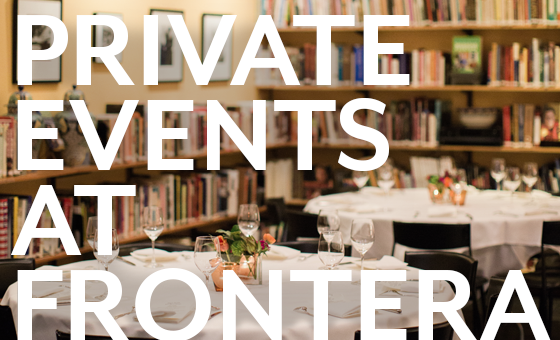 We love this time of year.
Everywhere we look, there are hints of the holiday merriment to come.
And all of that has us thinking: isn't it time you planned your holiday party? We're here for you! We offer three distinct private event rooms for memorable private parties for your group.
The Library offers an unforgettable setting in Rick Bayless' test kitchen and cookbook library, where you'll have a Topolobampo menu prepared by your own private chef — and a front-row seat to the preparation.
The Morales Room is adorned with vivid artwork from Mexican master painter Rodolfo Morales and offers the complete Frontera Grill experience for your group.
La Vista is a laid-back oasis offering antojitos (street snacks), fresh seafood, guacamole and tacos from genuine street carts, plus a cute little bar for margaritas, tequilas and specialty mezcales.

Looking for something more? A whole restaurant buyout? A big ol' catered office lunch? A few lunch boxes for your small team? We can do that too. Get in touch with us by emailing Jen Fite at jfite@fronteragrill.net or calling (312) 661-1434