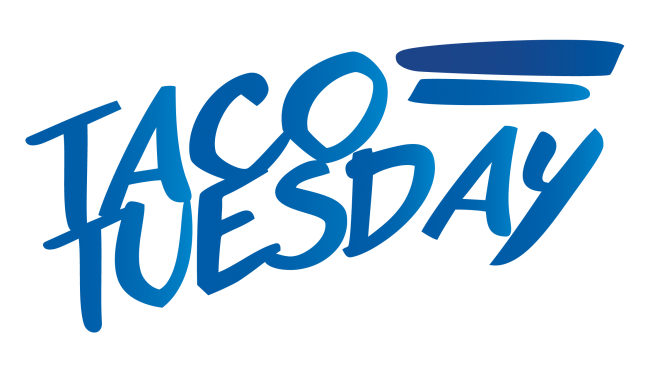 Bistec encebollado is an ideal weeknight taco preparation, one that turns a couple of common ingredients—beef and onions—into a satisfying meal.
But you need to get the right kind of meat.
What's called bistec in the Mexican markets is typically thinly cut from the round, meaning it can be seared quickly and then chopped. You never notice that it's not the most tender steak you've ever tasted: it's seared for great flavor and then cut up before you pack it into a tortilla. You can usually find something similar at your butcher shop or grocery store called "breakfast steak" or "sandwich steak" or "minute steak."
Another option, which I've chosen for the video demo, is inner skirt steak. Inner skirt steak is the less-tender, more-common skirt steak option (outer skirt is the more tender, more steak-like, more expensive one). Inner skirt steak is what you most commonly find at Mexican butcher counters called arrachera; it is often butterflied to make it thinner and faster cooking. For me, skirt always tastes beefier than anything called bistec.
Now, you can sear a piece of butterflied inner skirt steak like you would  bistec, but it'll turn out a little chewy. So, to ensure tenderness, I'm simply simmering a piece of inner skirt steak until it's tender, chopping it up and browning it to delicious effect.
You'll have to start the simmering 45 minutes to an hour before you make dinner, but there's no tending.  If you don't have that kind of time, just buy one of the thin-cut steaks and go straight to the browning step, then cut up the meat and mix it with the caramelized onions, a mess of melted cheese (that's my addition) and a splash of hot sauce. It's a classic Mexican taco. I hope it becomes one of your favorites.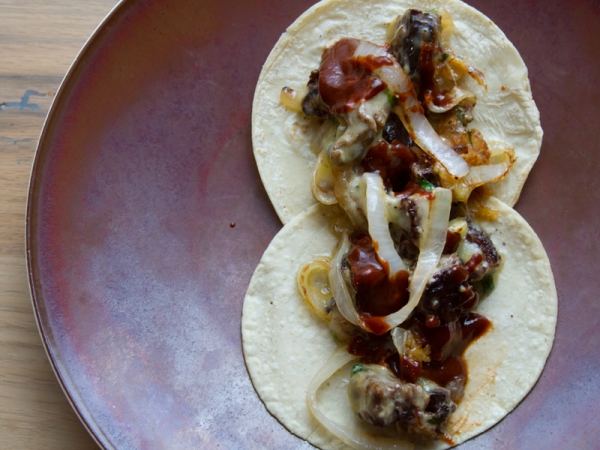 Ingredients
4

cups

water

2

tablespoons

salt

5

peeled

garlic cloves

1

small

white onion, chopped

1

bundle

hierbas de olor (marjoram, thyme and bay leaf)

1

pound

flank steak OR butterflied skirt steak OR thin-cut round tip (1/8- to 1/4-inch thick) also known as minute steak, sandwich steak or breakfast steak in American markets

For the Taco Filling

2

tablespoons

vegetable oil

1/2

small

white onion, cut into slices about 1/4-inch thick

2 or 3

epazote leaves

, finely chopped

1/2

cup

shredded melting cheese (such as Jack, Chihuahua, quesadilla or asadero)

A few

dashes

of your favorite Mexican hot sauce
Instructions
In a 3-quart pot set over high heat, add the water, salt, garlic, onions and herb bundle and bring to a boil. Reduce the heat to medium and add the steak. Simmer until the meat turns tender, about 1 hour.
Set a 12-inch skillet set  over medium heat and film with oil.  Add the onion slices and cook for 2 to 3 minutes. Remove meat from pot and cut into 1/2-inch cubes, then add to the skillet with the onions and cook until the meat and onions are browned, abut 7 to 8 minutes.
Add the cheese and epazote leaves and stir to combine. Scoop the mixture into warm corn tortillas and add a few dashes of hot sauce.