The next best thing to kicking it in our basement bar alley oasis is enjoying our food and cocktails from the comfort of your own home. For that, we proudly present the Bar Sótano at Home Experience featuring big shareable portions of our favorite dishes and cocktails.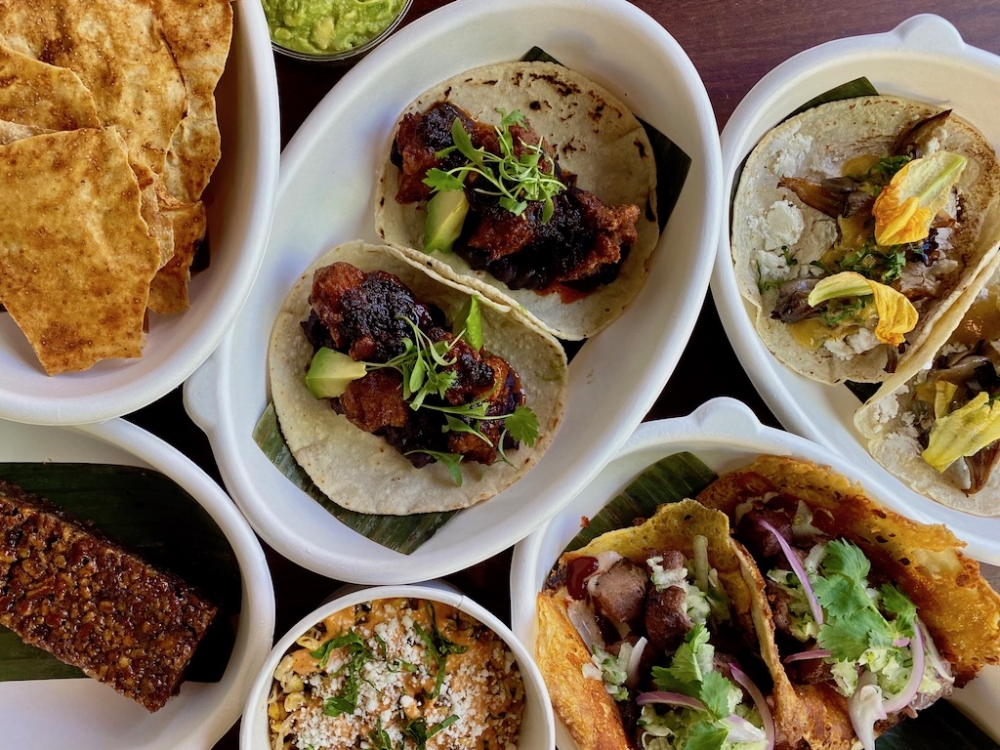 Sótano Taco Experience
A dynamic variety of tastes for 2 people! Start with Oaxacan tlayudas (crispy tostadas) that you pile with avocado mash and charred corn, Oaxacan chile crema & fresh cheese. Then enjoy our best-selling tacos: 2 EACH of Tacos Árabes (slow-cooked lamb, chipotle salsa, joquoque, crispy cheese, flour tortilla), Oaxacan Fried Chicken Tacos (smoky salsa macha, avocado, black beans, corn tortilla), Roasted Maitake Mushroom Tacos (goat cheese, squash blossom crema, crispy onions, corn tortilla). And to finish, our famous chocolate pecan pie bars.
Sótano Paella Experience
A one-of-a-kind experience for 3 to 4 people that starts with a large portion of our classic ceviche (with a splash of Sotol!) and those addictive tlayudas (crispy Oaxacan tostadas). A whole, baked-to-order Mexican paella follows, filled with Gulf shrimp, Gunthorp chicken thighs, roasted poblano, tomato, peas, avocado and crispy chicken chicharrón. Our famous chocolate pecan pie bars complete the feast.
Sótano DIY Burger Kit
Your "best burger ever" DIY kit for 2 includes a take-and-bake queso fundido (artisan Jack, homemade chorizo, roasted peppers, caramelized onions) and Oaxacan tlayudas (crispy tostadas) for scooping. (You might be disappointed unless you save some for the burger!) Grill or pan-sear your perfect patties (ground from dry-aged CDK Farm beef), toast the La Fornette Bakery brioche buns and serve with sweet-sour tomato compote and cilantro-jalapeño crema (plus gooey queso fundido … if you saved some). We're sending along charred corn esquites to round out the meal. Complete cooking instructions are included.
Bar Sótano Cocktails
Bar Sotano cocktails are renowned for their creative and delicious use of Mexican flavors. Choose from several of the customer favorites to enjoy at home.