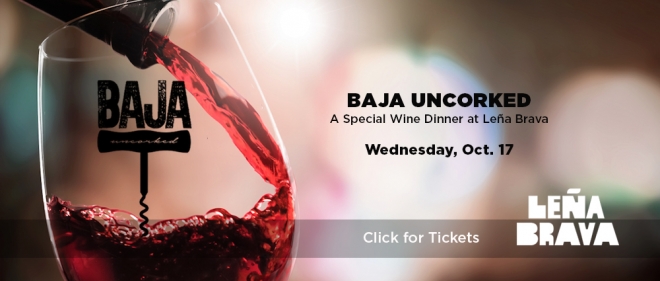 Baja Uncorked is bringing its show on the road. First stop? Chicago.
Leña Brava and Rick Bayless will host to this one-of-a-kind dinner featuring the prominent winemakers in Mexico's emerging Valle de Guadalupe region. Ticket price includes welcome cocktail and four-course dinner with world-class wine pairings.
Featured guests include Phil Gregory of Vena Cava, Lourdes "Lulu" Martinez Ojeda of Bodegas Henri Lurton, Frontera wine director Jill Gubesch and Rick Bayless.
Traditionally held at wineries in Valle de Guadalupe, Baja Uncorked is an industry showcase featuring the winemakers and wineries from one of the world's most exciting wine regions.
Leña Brava, with its focus on wood-fired, Baja-inspired cuisine and robust collection of Mexican wine, is a natural fit to host this exclusive dinner.
Tickets are extremely limited and this event is expect to sell out quickly.
[/vc_column_text][/vc_column][/vc_row]