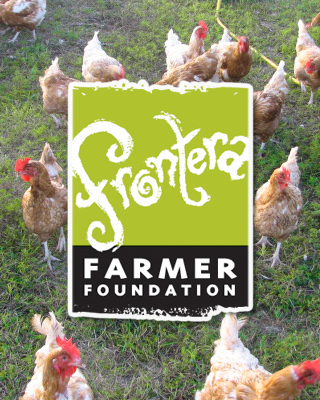 It is always a special day when we call up hardworking Midwest farmers to let them know our board has awarded their farms with capital development grants.
Sometimes they cry. Sometimes we do too.
"Oh, I think I might start dancing," said one farmer when getting the good news.
Another farmer screamed so loud, for so long, that we had to put the phone down while she let it all out.
This year, the Frontera Farmer Foundation is proud to announce more than $280,000  in grant awards, all of it headed to farmers looking to expand their business. With these grants, the foundation aims to allow these farmer to sustain themselves, and, by extension, sustain us with locally produced, honest food.
It's worth noting here that almost all of the money awarded by the foundation comes from the generous support of individual donors at our annual Dinner Like No Other (slated this year for Oct. 14) and the incredible fundraisers we throw throughout the year, including the upcoming G.O.A.T. #greatestofalltime Sunday Funday in Rick's backyard and the auction for six super-special James Beard Gala VIP tickets and passes to our after-party.
Of course, we always take donations online too.
Without further ado, here are the winners of the 2018 FFF grants:
Anderson Organics
Caledonia, Ill.
Project: Build a new greenhouse for vegetable seedlings

Grant award: $12,000
Brian Severson Farms
Dwight, Ill.
Project: Purchase of a smaller bin for specialty corn

Grant award: $12,000
Bryant Family Farms
Mineral Point, Wisc.
Project: Construct a breeder building with 5 breeder pens

Grant award: $12,000
Butternut Sustainable Farm
Sturgis, Mich.
Project: Build a fifth hoop house for heirloom tomatoes
Grant award: $11,106
Carroll's Timber Edge Farm
Graymont, Ill.
Project: Increase processing area & addition of a larger cooler

Grant award: $12,000​
Earth First Farms
Berrien Center, Mich.
Project: Buy buckets, tractor & compost tea brewer for restaurant compost
Grant award: $11,789 
Frillman Farms
Prairie View, Ill.
Project: New tractor
Grant award: $12,000
Genesis Growers
Saint Anne, Ill.
Project: New delivery vehicle
Grant award: $12,000
Green Fire Farms
Monticello, Wisc.
Project: truck for delivery
Grant award: $11,000
Gretta's Goats
Pecatonica, Ill.
Project: Commercial refrigeration and Igloo coolers
Grant award: 
$10,017
Janie's Organic
Danforth, Ill.
Project: Semi-automatic bagger and dedicated labeler for grain/mill products
Grant award: : $11,147
Legacy of the Land
Bloomington, Ill.
Project: Delivery vehicle, market supplies,
Grant award: $12,000
LotFotL Community Farm
Elkhorn, Wisc.
Project: Farm food truck
Grant award: $12,000
Moss Funnel Farms
Bangor, Mich.
Project: Farm tractor repair
Grant award: $12,000
Olden Produce
Ripon, Wisc.
Project: Purchase of a commercial-grade food processor
Grant award: $12,000
PrairiErth Farm
Atlanta, Ill.
Project: Installation of commercial refrigeration in packing house
Grant award: $12,000

Rainfield Farm
New Carlsisle, Ind.
Project: Build swale for flood prevention, installation of new sprinklers and fortification of caterpillar tunnels
Grant award: $4,000
Rustic Road Farm
Elburn, Ill.
Project: Installation of a large walk-in refrigerator

Grant award: $12,000
Sandbox Organics
Hebron, Ill.
Project:  Build 40×40 foundation & cold storage infrastructure
Grant award: $11,600
Smits Organic LLC
Downers Grove, Ill.
Project: Installation of a hoop house for organic produce
Grant award: $10,800
Staff of Life Farms
Dwight, Ill.
Project: Build a 36×64 chicken house

Grant award: $12,000 
The Gourmet Grower
Fontana, Wisc.
Project: Construct a movable high tunnel for tomato crop
Grant award: $12,000
Tomato Mountain Farm
Brooklyn, Wisc.
Project: $12,000
Grant award: New website for ordering from Tomato Mountain and other local farms
Trogg's Hollow
Poplar Grove, Ill.
Project: Installation of second high tunnel for winter greens and summer tomatoes
Grant award: $11,678
Whimsical Acres
Salem, Wisc.
Project: Build a mobile milking parlor for goats
Grant award: $12,000
Victory Garden Farm
Fredonia, Wisc.
Project: Infrastructure, supplies for pastured poultry production
Grant award: $12,000