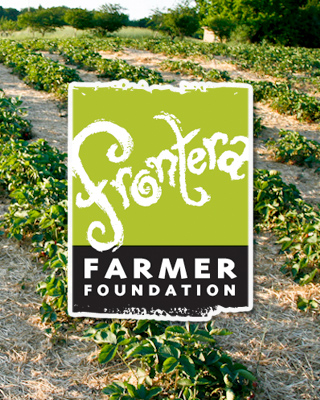 Here's just a small taste of what the grant money awarded by the Frontera Farmer Foundation will be used for in 2017:
A Milwaukee mushroom farmer will buy mixing and bagging equipment allowing him to turbocharge his production.  A suburban Chicago church will erect two hoophouses and storage facilities for its expanding CSA program. A Northwest Illinois-based farm will build an on-farm butcher shop. 
Together, these are just a few of the projects adding up to a whole lot of good: With this latest crop of grants, these family farms will expand their operations and make more good food available in the Midwest.
The Frontera Farmer Foundation is proud to be a part of this growing good food movement.
A nonprofit started by Rick and Deann Bayless and the staffs of  their restaurant, the Foundation started in 2003 with the mission to support the growth of small family farms and to highlight the variety and abundance of local agriculture within Chicago's culinary world, CSA's and Farmers' Markets.
Since 2003 the foundation has awarded about $2 million in small capital development grants for projects both big and small. To learn more about the Frontera Farmer Foundation, past projects and ways to donate click here.
It is with great pleasure that we announce this year's grant recipients. We strongly encourage you to seek them out at farmers' markets and CSA programs throughout the Midwest!
All Grass Farms
Dundee, IL
Project: Purchase of large mobile coops to extend the chicken raising season, boost efficiency and decrease the mortality rate. 
BIOS Farm
Blue Island, IL
Project: Purchase of a small utility tractor, allowing this small farm to double their production area.
Froggy Meadow Farm
Beloit, WI
Project: Adding electricity, a walk-in cooler and processing facility to this previously off-the-grid farm.
GlennArt
Chicago, IL
Project: Installation of automated milking machine, pasture fencing, raw milk processing parlor at this urban farm on Chicago's west side. 
Good Worx
Darien, IL
Project: Purchase of containers, organic soil and tools to build the "Sunny Patch Community Micro-Farm," an offshoot of  their community garden project, geared toward those with special needs and young adults. 
Grani's Acres
Fairbury, IL
Project: Purchase of dehydration and food processing equipment and commercial kitchen space to dehydrate vegetables and make them shelf stable. 
Harrison Market Gardens
Winnebago, IL
Project: Purchase of tractor and cultivator implements to increase efficiency for the family's U-Pick and CSA programs.
Lonely Oak
Sparta, MI
Project: Construction of an on-farm greenhouse. (Previously, farmer Joe Kuenhold schlepped to rented greenhouse space 22 miles away.)
Mighty Greens
Elburn, IL
Project: Purchase of harvest equipment — bins, hand tools, tents, dryers – to eliminate production bottlenecks on harvest day. 
Mother's Carr's
Lynwood, IL
Project: Construction of a greenhouse, plus washing, tilling and infrastructure equipment required for the USDA's Good Agricultural Practices ("GAP") certification. 
Mushroom Mike, LLC
Milwaukee, WI
Project: Purchase of automated mixing machine and bagging equipment allowing the farm to produce 1000-1400 parceled bags of mushrooms an hour instead of 22.
Oriana's Orchard
Skokie, IL
Project: Installing a new cold storage facility and refrigeration system approximately doubling the size of their current cooling facility while also adding a heating element for cold weather.
Painted Rock Farms
Amherst Junction, WI
Project: Constructing a new well with more efficient plumbing providing clean, fresh water to the farm's animals, gardens, high tunnels and certified kitchen. 
Chicago Patchwork Farms
Chicago, IL
Project: Expanding grow space in Chicagoland, constructing new on-site compost system and installing hydrant-based irrigation systems at both farm locations.
Riemer Family Farm
Brodhead, WI
Project: Purchasing new skid loader and installing fencing on farm property.
Sol Gardens
Yorkville, IL
Project: Constructing a nursery greenhouse for seedling propagation allowing the farm to produce all seedlings on-site under complete control of the farmer.
Spence Farm
Fairbury, IL
Project: Purchasing sprayer and amendment spreader in addition to repairing two existing tractors.
Stoney Acres Farm
Athens, WI
Project: Purchasing a stone mill to process the farm's organic winter wheat for local sale and pizza dough production.
UP Farms
Chicago, IL
Project: Constructing a second tier of vertical grow sites allowing the farm to double its current capacity and keep up with the demand of the farm's heirloom micro-greens.
Waldbeser Farms
Cissna Park, IL
Project: Purchasing a combine to custom harvest several small acres of wheat, heirloom corns, non GMO corn and sunflowers.
Walnut Acres
Walnut, IL
Project: Building butchery for processing hogs and cattle.
We Grow
Westboro, WI
Project: Completing construction of vegetable washing station and packing shed.
Wind Ridge Herb Farm
Caledonia, IL
Project: Purchasing 35 hydrostackers and lighting generator to meet existing and growing demand of local, organic herbs in Chicago.