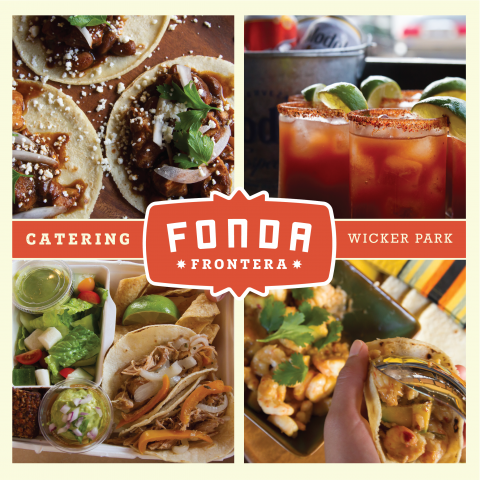 Fonda Frontera, our outpost in Wicker Park, has launched its BRAND NEW catering service, which is basically the best of its menu, delivered to your home, office or wherever else you want soul-satisfying Mexican food. A few of the highlights:
• TACO BAR! With oven-braised or wood-grilled meats and fresh handmade corn tortillas. Think classics like carnitas, cochinita pibil, barbacoa, etc. 10 people? 200 people? We got you.
• Super-fresh ceviche and seafood coctel spreads.
• Specialties that made Frontera famous – mole poblano with wood-oven roasted chicken, simmered pork shoulder in chile negro, braised beef in guajillo sauce, shrimp in slow-roasted garlic mojo and wood-grilled vegetables.
• Guacamole bar with fresh tomatillo-garlic guacamole with two salsas and housemade tortilla chips.
• Taco lunch boxes – handsome, Individually packed taco lunch boxes for groups up to 30. Your office lunch will never be the same.
• Churros! That's right, we'll bring all of the golden, crispy churros your party can handle. Bean-to-cup chocolate ganache for dipping, too.
• We'll even bring you a punch bowl full of margaritas and a build-your-own michelada bar with a 12-pack of ice cold Modelo. That's honestly how we like to roll.
Ready to order? Plan your perfect fiesta at Fondafrontera.com
Full catering menu: https://ow.ly/A7Lg30eXYE1