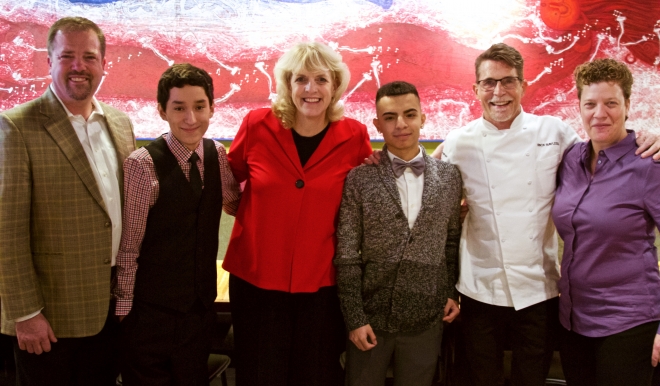 The team here at Frontera is thrilled to announce the recipients of this year's Frontera Scholarship, which awards Mexican-American Chicago Public Schools students a full ride to Kendall College, the city's premiere culinary and hospitality management school. 
The winners are: Luis Lebron and Edwin Rosales, two promising, hardworking young men with bright futures. Those aren't just platitudes: Luis and Edwin have already been a part of the Frontera team this summer, so we know they're cut out for the grueling-but-meaningful work of life in the kitchen.
In addition to another stint in the Bayless restaurants, the recipients will accompany the Frontera team on its annual research trip to Mexico in early 2017.
Rick and Kendall's Vice President of Culinary Arts Chef Chris Koetke recently presented the scholarships to Luis and Edwin at a snack-filled ceremony, where they were welcomed into the Frontera family by chefs and restaurant managers. 
Luis, a graduate of Prosser Career Academy, said he's influenced by the dishes his Mexican grandmother cooked during his 2008 visit to Mexico. He's also volunteered to feed children all over the world through a program called "MyStarving Children." 
Edwin Rosales, a graduate of Benito Juarez Academy, earned second place in the 2015 Prostart competition. He said he'd love to travel to Australia, France and Spain to experience the food and cultures there. 
The scholarship is primarily funded through wine sales at Frontera Grill and Topolobampo, where $1 of each bottle sold is earmarked for the scholarship fund. Rick also donates many of his speaking fees to the fund.
Luis and Edwin's journey at Kendall begins later this fall. Please join us in congratulating them on their well-deserved accomplishments.