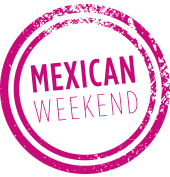 By themselves, pan-seared trout fillets cook quickly and provide an easy, if uninspiring, main dish.
Top them with a mix of chorizo, caramelized onion and dark Mexican beer, though, and the flavor catapults into another stratosphere. The maltiness of the beer pairs wonderfully with the sweetness of caramelized onion and the soul-satisfying richness of the sautéed chorizo.
But the secret weapon here, if you can call it that, is patience. When you're making the chorizo-onion-beer mixture, you want the beer to reduce to a glaze, creating a thrilling amalgam of flavors … not a soupy sauce.
It only takes a few minutes, and, well, you do have the rest of that beer to help you pass the time.
Looking for a good side dish? Try this garlicky white rice.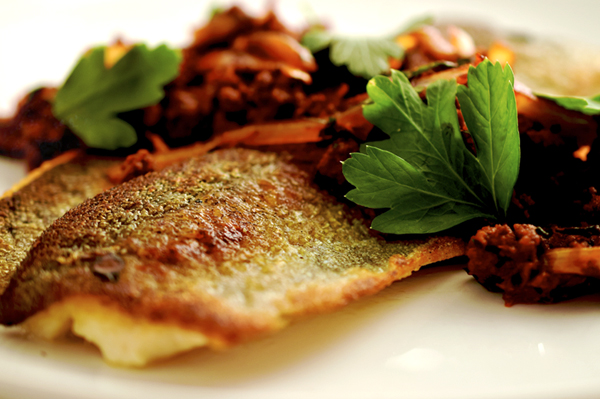 From Season 9, Mexico—One Plate At A Time
Ingredients
1/4

cup (2 ounces)

Mexican-style chorizo sausage,

casings removed

2 to 3

tablespoons

olive or vegetable oil

1

medium

red onion, sliced 1/8" thick

1

teaspoon

sugar

2

teaspoons

Worcestershire sauce

1

cup

dark Mexican beer, such as Negra Modelo

1 to 2

tablespoons

loosely packed, chopped parsley or cilantro, thick bottom stems removed, plus extra for garnish

Salt

Coarsely ground black pepper

4

skin-on, boneless trout fillets (they should weigh about 6 ounces each)
Instructions
In a very large (12-inch) skillet, brown the chorizo over medium-high heat, about 8 minutes. Add one tablespoon of the oil. Add onion and sugar to the pan, and cook until the onion softens and begins to brown, about 7 to 8 minutes. Add the Worcestershire, beer, herbs and salt, usually ½ teaspoon, and simmer until most of the liquid has reduced and the flavors have blended. Taste and season with more salt if it needs it.  Scrape the mixture into a small pan and keep warm over very low heat or in a low oven.
Pat the trout skin dry with paper towels and season with salt. Wipe out the skillet, add the remaining 1 to 2 tablespoons of the oil and set over medium high heat.  When the oil is hot, carefully lay the trout fillets in the skillet, flesh side down in a single uncrowded layer. Cook until the trout is barely done, 3 to 4 minutes per side. Sprinkle with black pepper.
Remove the trout fillets to a plate and top with the warm chorizo and onion mixture. Garnish with more chopped herbs and serve immediately.