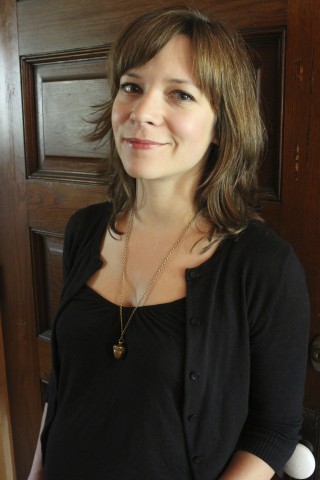 Amy Thielen spent a few years cooking in New York restaurants, but the majority of her days have been spent in Minnesota. She and her husband grew up there, and after their New York stint they moved to a the small Minnesota town of Two Inlets. Currently, Thielen is the only Two Inlets resident with a new cookbook about midwestern food (The New Midwestern Table) and a Food Network show (Heartland Table).
Thielen came to Chicago a few weeks ago for the Good Food Festival, and she stopped by Xoco to chat about midwestern foods, midwestern gardens and midwestern Mexican food—three things we think about a lot around here. While we talked she sipped a blood orange margarita—with salt.
In preparing for this interview I got a little stuck. I want to talk about Mexican midwesten food, but midwestern food has absolutely no Mexican roots…
But now it does! I would say the new midwestern food does. We make a lot of road trips, and in Iowa and Nebraska it's sometimes easier to find a great tamale than an honest bowl of soup. You find these little places where the people have freshly moved here, and they're making really good food. And they're staying and building families.
Are you seeing any aspects of Mexican food creeping into everyday midwestern home cooking?
In small ways, yeah. I think that most chefs now are pulling from the world's bazaar of ingredients, you know?
How did your time working in New York restaurants inform your midwestern cooking?
At Danube, which is an Austrian restaurant, the cooks were insane—insanely good cooks straight out of Michelin 3-star country places. It was  interesting because they were coming from a really rural perspective, even though they were fine dining. That was an eye-opener for me. That's when I could really see that the roots of fine dining cuisine are in rural country traditions.
That's certainly the case here at Topolo.
That's where inspiration comes from. That's where the real soul-cooking takes place.  
One thing I always talk about is that I feel that Mexican cooks grow up with superior cuisine. I do believe that there are some superior cuisines, and Mexican is one of them, because you have very, very complicated, long-cooked sauces, and then you also have some very fresh components. And acid. You have a lot of acid. That's the kind of food I love to eat. 
You can be raised on canned peas and grow up to be a good cook and it can inspire you. But there is something to growing up with those complicated flavors, that mixture of flavors, that teaches you something.
That reminds me of a recipe in your book, the glorified hashbrown cake with frying peppers. To me, the chiles take that recipe to a slightly Mexican place. Where'd that addition come from?
It comes from gardening, from growing peppers in varying degrees of hotness for different purposes. And that medium-hot pepper is kind of a gardner's tradition, especially northern gardeners—those semi-hots are very valuable for northern gardeners.
So not necessarily Mexican.
I think it's just American. Very American.