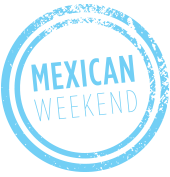 So, this isn't going to be true tacos al pastor.
For the absolute best version, you'd need at least 20 pounds of thin-sliced marinated pork, a charcoal-fired contraption like the ones used for roasting Greek gyros and a long knife to slice off slivers of the succulent roasty meat into waiting fresh corn tortillas.
Assuming you don't have any of that, I'm going to offer up my backyard-grill version of Central Mexico's most iconic taco, which food historians say came to Mexico after a great number of Middle Eastern immigrants brought vertical spit cooking.
Quick tip: The longer you marinate the meat, the more its texture will resemble cured ham; marinate for an hour or so for fresh-pork texture, overnight for cured texture. The marinade itself will hold for a week or more, covered and refrigerated.
And if you can't find achiote paste locally, you might want to consider buying a pouch of Frontera Al Pastor marinade to do the work for you.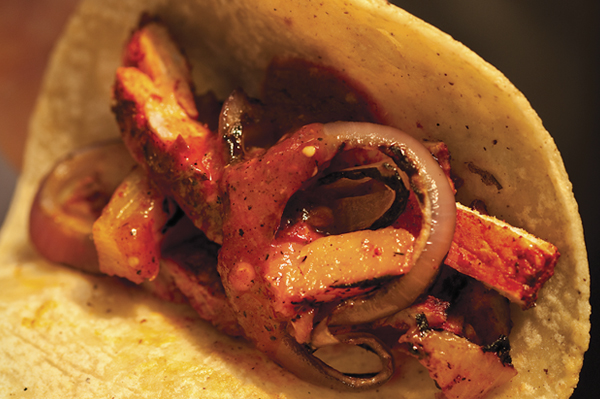 When I want to capture some of the tacos al pastor flavor in a hurry at home, this is how I do it. It's punchier with chipotle flavor than you typically taste from Mexico's tacos al pastor specialists, but it's delicious. This recipe is from from Season 7, Mexico—One Plate at a Time
Servings:
20
tacos, enough to serve 4 to 5 as a main course
Ingredients
A 3 1/2

ounce package

achiote paste

3

canned chipotle chile en adobo,

plus 4 tablespoons of the canning sauce

1/4

cup

vegetable or olive oil, plus a little more for the onion and pineapple

1 1/2

pounds

thin-sliced pork shoulder (1/4-inch-thick slices are ideal—the kind Mexican butchers sell for making tacos al pastor)

1

medium

red onion, sliced 1/4- inch thick

Salt

1/4

of a medium

pineapple, sliced 1/4-inch-thick rounds

20

warm corn tortillas

About 1 1/2

cups

raw tomatillo salsa
Instructions
In a blender, combine the achiote paste, chiles, canning sauce, oil and 3/4 cup water. Blend until smooth. Use 1/3 of the marinade to smear over both sides of each piece of meat (refrigerate the rest of the marinade to use on other meat or fish). Cover and refrigerate for at least an hour.
Light a charcoal fire and let the coals burn until covered with gray ash but still very hot; bank the coals to one side and set the grill grate in place. Or, heat one side of a gas grill to high. Brush both sides of the onions slices with oil and sprinkle with salt. Lay in a single layer on the hot side of the grill. When richly browned, usually just about a minute, flip and brown the other side; move to the cool side of the grill to finish softening to grilled-onion sweetness. Oil and grill the pineapple in the same way. Finally, in batches, grill the meat: it'll take about a minute per side as well. As the meat is done, transfer it to a cutting board and chop it up (between 1/4- and 1/2-inch pieces). Scoop into a skillet and set over the grill to keep the meat warm. Chop the onion and pineapple into small pieces as well, add them to the skillet and toss everything together. Taste and season with salt, usually about 1/2 teaspoon. Serve with the tortillas and salsa for your guests to make soft tacos.