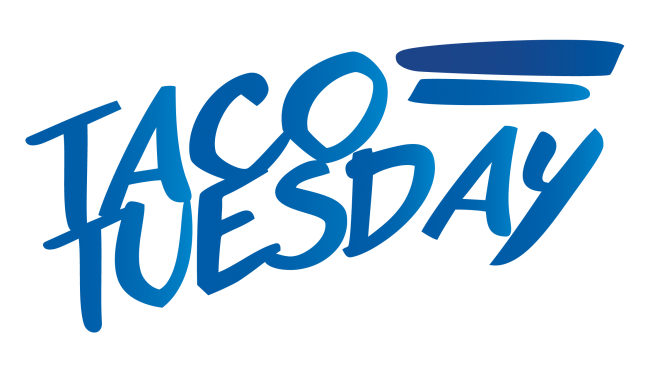 It's not everyday that you can describe a taco as "refreshing," but this is #TacoTuesday and anything can happen.
See, this filling of fresh ricotta, poblanos and blanched greens not only makes for an easy weeknight dinner, it also offers interesting, unexpected flavors and textures.
Scoop the cool filling into a warm tortilla, top with crunchy radish and cilantro, and the whole thing is, well, refreshing.
Two quick notes: Use the freshest ricotta you can find. (Your market may carry what's called hand-dipped ricotta; its drier than most commercial ricotta and perfect here. Goat cheese would also shine. ) Also, though I've called for using grilled onion, this recipe works well with raw — just make sure to give the diced raw onions a rinse with cold water to remove some of the sting.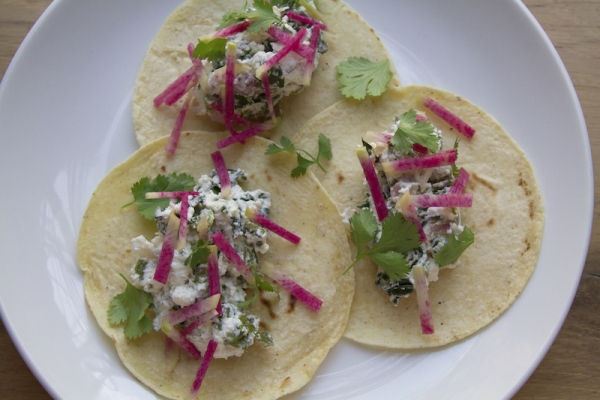 Servings:
8
tacos, enough for 4 as a light main course or substantial appetizer
Ingredients
4

garlic cloves, unpeeled

6

cups

loosely packed kale, stems removed and sliced ½ inch thick

1

fresh poblano chile

1

cup

ricotta cheese (the freshest you can find, preferably the firmer version they call "hand dipped" in my market)

1

red onion (preferably tropea onions from the Farmers' Market), halved

Ground black pepper

8

warm

corn tortillas

3 or 4

radishes, thinly sliced or cut into matchsticks

A few

big, beautiful sprigs of cilantro for garnish

About 1

cup

salsa (I like roasted tomatillo salsa with these tacos)
Instructions
Make the filling. On an ungreased griddle or small (10-inch) heavy skillet set over medium heat, roast the garlic, turning frequently, until blackened in spots and soft to the touch, about 15 minutes. Cool, peel off the papery skins and finely chop. Set a 4-quart pot of water to boil and briefly blanch the kale. Transfer to a colander to drain, then roughly chop.
Heat a grill or grill pan over medium heat and place the cut half of the onion on the grill grates (or grill pan) and cook until softened, about 15 minutes
Roast the chiles directly over a gas flame (or 4 inches below a very hot broiler) until blackened on all sides, about 5 minutes for open flame, about 10 minutes for broiler. Cover with a kitchen towel and let stand 5 minutes. Peel the skins, pull out the stem and seed pod, then rinse briefly to remove bits of seeds and skin. Chop the chiles into 1/4-inch pieces.
In a medium-size bowl, mix together the garlic, kale, ricotta and the chopped chiles. Taste and season with salt (usually about ½ teaspoon) and pepper (about ¼ teaspoon). Scoop into a serving bowl.
Finishing the dish. Serve the warm tortillas and ricotta mixture for your guests to help themselves to. Set out the radishes, cilantro and salsa for everyone to add to their liking.