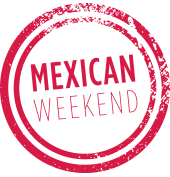 Still feeling full from your holiday feasting?  We are too, but this soup is the answer.  This Mustard Green soup studded with roasted poblano and yukon gold potatoes, and thickened with almonds is the perfect soup for January.  Not only is it super healthy and a great start for those New Year's Resolutions, but it is also filling and warming for January's cold temperatures.  One more added bonus, this soup is vegan – so next time you are struggling to find something to cook for vegan guests – look no further than Mustard Green Soup with Poblano and Almond.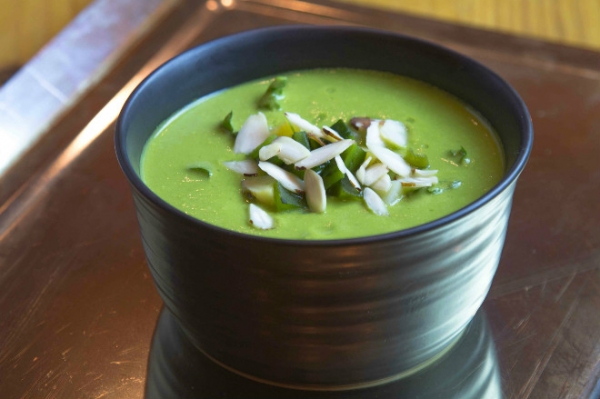 This soup really celebrates the flavor of spicy mustard greens—and, as a bonus, it's vegan. (You may decide to make it the first time for someone who's vegan, then find yourself turning to it over and over when there are no vegans at the table—it's that good). It's made creamy with potato and enriched with the wonderful flavor of toasted almond.
Ingredients
2/3

cup

(about 3 ounces) blanched (peeled) almonds (I always keep the slivered ones on hand, but you can use whole ones as well), plus a few extra for garnish if you wish

Salt

2

medium

fresh poblano chiles

2

medium

(about 1/2 pound total) boiling potatoes (the red- or white-skin variety or the multi-purpose Yukon gold, which are typically larger), not peeled, but cut into ½-inch cubes

4

garlic cloves, peeled

1

bunch

(about 8 ounces) mustard greens, tough stems cut off

3

cups

vegetable stock or water, plus a little more if needed
Instructions
Heat your oven to 325 degrees, spread the almonds onto a baking sheet, slide them into the oven and toast them until nutty-smelling and pale golden, about 15 minutes.
While the almonds are toasting, roast the poblanos over an open flame or close under a preheated broiler, turning regularly until blistered and blackened all over, about 5 minutes for the open flame, 10 minutes for the broiler. Place the chiles in a bowl, cover with a kitchen towel and cool until handleable. Rub the blackened skin off the chiles and pull out the stems and seed pods. Briefly rinse the chiles to remove bits of skin and seeds.
While you're waiting for the poblanos to cool, bring a large (4-quart) saucepan of heavily salted water to a boil over medium high. Scrape the toasted almonds into it, boil for about 5 minutes until noticeably softened, then use a slotted spoon to scoop them into a blender jar. Add the potatoes and garlic to the pot and cook until the potatoes are fork-tender, about 6 minutes.
When the potatoes are ready, use a slotted spoon to scoop out the potatoes and garlic into a bowl. Pick out the garlic cloves and add them to the blender, along with half of the potatoes.  Add about two-thirds of the mustard green leaves to the pot and cook for 1 minute, just until they soften and turn even brighter green. Use tongs or a slotted spoon to transfer the greens to a blender jar. Add one of the poblanos (torn into smaller pieces), the vegetable stock (or water) and the toasted almonds.  Process until completely smooth—with a high-powered blender, this should take about 2 minutes; typical blenders will take longer. Pour the blanching water out of the pot, then pour in the soup.
Chop the remaining poblano into ¼-inch pieces and add to the soup along with the other half of the potatoes. (You can reserve a tablespoon or two of poblano for garnish if you want.) Slice the remaining mustard green leaves into ½-inch pieces and  add to the soup. When the soup has simmered for a minute or two—the mustard greens need to soften to a pleasant tenderness—season with salt, usually about 1½ teaspoons. If the soup seems a little thicker than you'd like, thin it with a little extra vegetable stock or water.  Divide the soup among warm bowls and top each with a few pieces of poblano (and chopped toasted almond if you made extra).
Riffs on Mustard Greens Soup: You can replace the mustard greens with spinach, chard, kale or collard greens or wild greens like nettles and lamb's quarters. If this soup is the main dish of your meal, you may want to add cubes of tofu or coarse shreds of cooked chicken just before serving.  Poaching shrimp in the soup makes it very special.