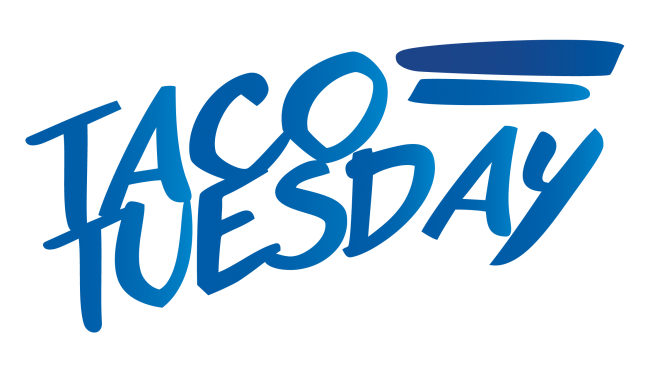 OK, this week's Taco Tuesday takes me back to my time as a student living in Mexico City, where this mixture of tatume squash and roasted poblano in a tomato-crema sauce quickly became my go-to order at the taqueíra down the street.
Nostalgia aside, it's still one of my favorite tacos of all time.
It all starts with the flavoring base, a simply satisfying tomato-onion-garlic mixture that serves as the foundation for the roasted chiles, corn and herbs. A big dollop of Mexican crema lends the mixture an irresistible richness. (If you stir it in al the very last moment, Greek yogurt can stand in for the crema.)
These are downright perfect as a vegetable option for dinner, but if your crowd is more carnivorous, these will be super good with the addition of small pieces of pork tenderloin (simmered along with the with the squash), shredded rotisserie chicken or, of course, some crispy fried bacon.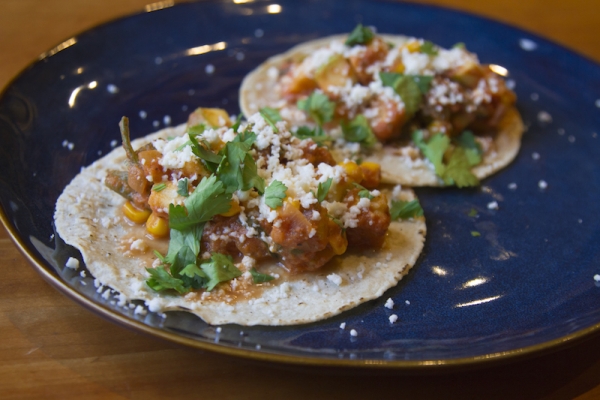 Ingredients
1 1/2

tablespoons

vegetable oil

1

medium

white onion, chopped

1

pound

(2 medium-large round or 6 to 8 plum) ripe tomatoes, roughly chopped OR two-thirds of a 28-ounce can good-quality fire-roasted tomatoes

2

garlic cloves, peeled

2

large

fresh poblano chiles

1

large

ear corn, husked and kernels cut off (about 1 cup) OR 1 cup frozen corn

4

medium

(about 1 1/2 pounds total) zucchini—or use the Mexican round or teardrop-shaped, light green calabacitas—trimmed and cut into 1/2-inch cubes (about 5 cups cubes)

1

sprig

epazote, leaves roughly chopped OR 3 tablespoons chopped fresh cilantro

2/3

cup

Mexican crema, crème fraîche or heavy (whipping) cream

1/2

cup

crumbled Mexican queso fresco,

or other crumble fresh cheese, such as salted pressed farmer's cheese or feta

24

warm

fresh corn tortillas
Instructions
1. Preparing the flavoring base.  Measure the oil into a large (12-inch) skillet set over medium-high heat.  Add the onion and cook, stirring frequently, until richly browned, about 8 minutes.  While the onion is cooking, coarsely puree the tomatoes in a food processor or blender.  Add the garlic to the browned onion, cook 1 minute, stirring, then add the tomatoes.  Reduce the heat to medium-low and cook, stirring occasionally, for 5 minutes. (Cover the skillet if you think it's reducing and thickening too fast.) Remove from the heat.
2. Roasting the chiles. Roast the poblanos directly over a gas flame or on a baking sheet 4 inches below a very hot broiler, turning regularly until the skin has blistered and blackened on all sides, about 5 minutes for open flame, about 10 minutes for broiler. Cover with a kitchen towel and let stand 5 minutes.  Rub off the blackened skin, then pull out the stem and seed pod. Rinse briefly to remove stray seeds and bits of skin. Slice into 1/2-inch strips.
3. Finishing the dish. Uncover the skillet and raise the heat to medium-high. Stir in the poblanos, corn, zucchini, epazote (or cilantro) and the crema (or one of its stand-ins). Cook, stirring frequently, until the zucchini is crisp-tender and the liquid has thickened enough to coat the vegetables nicely, about 8 minutes. Taste and season with salt, usually about 1 teaspoon.  Serve in a decorative bowl, sprinkle with the crumbled cheese and pass the hot tortillas separately for do-it-yourself tacos.