Here's a sure-fire comfort food recipe to keep in your back pocket: Roasted Tomatillo Enchiladas.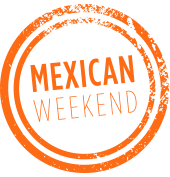 It's the perfect balance of flavor — corn tortillas and the fillings provide toothsome texture, tomatillo sauce brings the brightness, Mexican cheese supplies the savory and onions and cilantro furnish the freshness.
The best part? This dish comes together fairly quickly. Make it just once and you'll soon be adding it to your arsenal of "go-to" weeknight meals.
These will taste good with one pound of ground beef, pork or turkey (browned in a little oil alongside chopped onion and seasoned with salt), but I like them better with coarsely shredded cooked chicken, pork, beef, fish, shredded melting cheese or even goat cheese.
Don't forget:  Snap pics of your finished dish and tag them #MoreBayless on Twitter, Instagram and Facebook for a chance to win an autographed copy of my new cookbook, "More Mexican Everyday." Details here.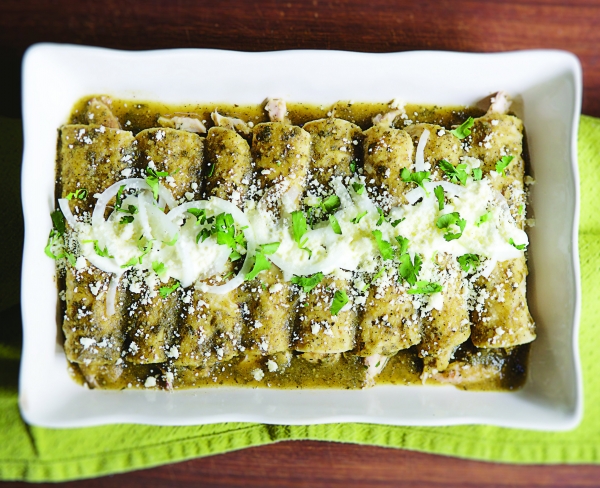 Ingredients
1

pound (about 8 medium)

tomatillos, husked and rinsed

4

garlic cloves, unpeeled

1 or 2

fresh serrano chiles

1

small

white onion, sliced ½ inch thick plus A few slices for garnish (divided use)

2

tablespoons

vegetable oil, olive oil, bacon drippings or fresh-rendered pork lard

1 1/2

cups

chicken broth, vegetable broth or water

1/4

cup

chopped cilantro or parsley OR a large sprig of epazote

2 3/4

cups (12 ounces)

cooked, coarsely shredded, boneless chicken, pork or beef (this is a good place for rotisserie chicken or leftover roasted or braised meats) OR 3 cups (12 ounces) shredded Mexican melting cheese (such as Chihuahua, quesadilla or asadero) or Monterey Jack, brick or mild cheddar OR 1 ½ cups (12 ounces) goat or dry-ish ricotta cheese

8

corn tortillas, preferably from a local tortillería

Dollops of Mexican crema, sour cream, crème fraiche or Greek-style yogurt thinned with a little milk OR A few tablespoons grated Mexican queso añejo or other garnishing cheese such as Romano or Parmesan OR A handful of shredded Mexican melting cheese (such as Chihuahua, quesadilla or asadero) or Monterey Jack, brick or mild cheddar —you can sprinkle it over the enchiladas before they go into the oven

A handful of cilantro leaves (if I have them)
Instructions
First make a roasted tomatillo base: On a rimmed baking sheet, spread out tomatillos, garlic, serrano, and the small white onion, sliced ½ inch thick.  Slide the baking sheet as close up under a preheated broiler as possible. After 4 or 5 minutes, when everything is blotchy-black and softening, turn the vegetables and roast the other side until everything is cooked through (they should be soft), while taking on an attractive bit of rustic char.  Once the vegetables are roasted, they go on the stove top to cool down a little.
When the vegetables have cooled down enough to handle, slip the skins off the garlic and pull the stem off the chiles.  In a blender, combine the tomatillos (and any juice on the baking sheet), garlic, chiles, onion and a scant teaspoon salt, and blend everything to a coarse puree.
In a large (10-inch) skillet over medium-high heat measure the oil or lard.  When it's hot, add the roasted tomatillo sauce base.  Let the sauce reduce and concentrate, stirring it frequently, for about 4 minutes. When it's thicker than spaghetti sauce, stir in chicken broth and cilantro or parsley.  Season the sauce with salt, turn the heat down to medium-low and let it simmer while you prepare the filling.
Measure out your choice of filling.  Turn on the oven to 400 degrees. Spray or brush with oil on one side of the tortillas then stack them up, slip them into a plastic bag, fold it over and microwave them at 100% for 1 minute. Let them stand for a minute (to uniformly absorb the heat) while you stir a little sauce into the meat to moisten it (the cheese needs no sauce). Then lay out the tortillas on the counter, top them each with a portion cup of the meat or cheese, roll them up and fit them into a 13 x 9-inch baking dish.  Spoon the hot sauce over them (covering the whole tortilla avoids dry ends), slide them into the oven and bake just until heated through—about 4 minutes.  Longer in the oven means mushy enchiladas. 
To serve the enchiladas, simply use a spatula to transfer them to dinner plates.  Garnish the enchiladas with the topping(s) of your choice, crema, cheese, white onion, and or cilantro leaves.