Fat or not, Tuesday just isn't the most practical day to throw a party.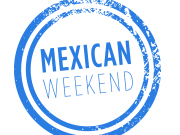 That's why I've picked this slow cooker pork and black bean dinner as my choice for Cinco de Mayo, which falls on Tuesday this year. The dish straddles the line between weeknight slow cooker simplicity and stick-to-your-ribs fiesta food.
Even though Frijol con Puerco is traditionally served in the warm climate of the Yucatán, I've found it super satisfying in cooler weather,  which, unfortunately, tends to linger here in Chicago for longer than we'd like.
I've called for canned fire-roasted tomatoes for the tomato-green chile sauce, but if you're able to harvest fresh tomatoes from your garden or farmer's market, roast those and blend them for the braise.
Another note: This recipe calls for either serrano or jalapeño, but if you're striving for Yucatecan authenticity — and can handle a nice dose of heat — use 1/2 to 1 whole habanero.
This dish is pretty complete by itself, though you may want to prepare either white rice or a leafy salad, perhaps both, as accompaniments.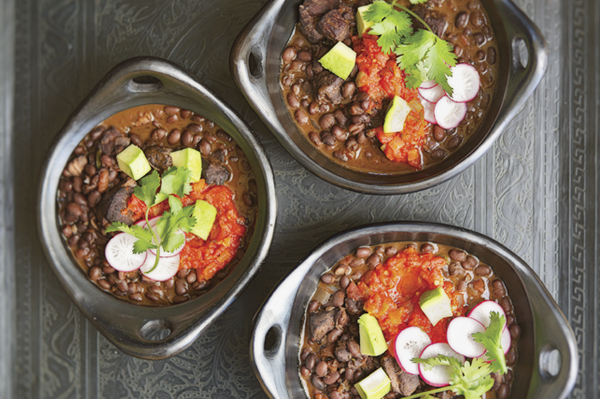 Ingredients
4

tablespoons

vegetable oil, olive oil, bacon drippings or fresh-rendered pork lard (divided use)

1 1/2

pounds

boneless pork shoulder, cut into 1-inch cubes and trimmed of extraneous fat

1

pound (about 2 ¼ cups)

dry black beans, picked over to remove any stones or debris

2

medium

white onions, chopped into ½-inch pieces (divided use)

A

big sprig of

epazote,

(if I have it)

1

28-ounce

can diced tomatoes in juice, preferably fire-roasted, undrained

2

fresh hot green chile (such as serrano or jalapeño),

stemmed and roughly chopped into small pieces (in Yucatan, they'd use ½ to 1 habanero).

1

large

ripe avocado,

pitted, flesh scooped from the skin and cut into ½-inch pieces

A

handful of cilantro leaves

A

handful of sliced radishes
Instructions
To ensure that the dish has the richest taste, first brown the pork.  In a very large (12-inch) skillet or the removable, stove-top-safe insert to a slow-cooker, heat 2 tablespoons of the oil or pork lard over medium-high.  When hot, add pork shoulder in a single, uncrowded layer.  Sprinkle it generously with about a teaspoon of salt and, as the cubes brown,  turn them until they're browned on all sides, about 10 minutes.  Either scrape the meat into the slow-cooker or transfer the slow-cooker insert to its base, then add 1 ½ quarts water, black beans, 1 of the white onions, and epazote.
Cover the slow cooker and turn it on to high. The beans and meat will be done in about 6 hours, though you can hold it for longer.  (My slow cooker can be programmed to switch from high after 6 hours to a keep-warm low temperature for another 6 hours. Some slow cookers click to keep-warm automatically; others need to be switched manually.)
(A quick parenthesis: If making this on the stovetop,  brown the pork in a 4-quart Dutch oven, then add 2 quarts water and the beans. Partially cover the pot and cook it at a simmer over medium-low for 2 ½ hours, stirring every half hour or so and adding more water when the liquid drops below the level of the beans.)
While the meat and beans are cooking, make the tomato-green chile sauce. In a very large (12-inch) skillet, heat the remaining 2 tablespoons of oil or lard over medium-high.  Add the remaining white onion and stir until it begins to brown. While the onion is cooking,  scoop the canned tomato into a blender and pulse it a few times until coarsely pureed. Pour the puree into the pan with the onions. Then add the serranosand cook, stirring regularly, until the mixture is thick enough that it will hold its shape in a spoon.
Season the sauce with salt (it usually takes a ½ teaspoon) and stir half the mixture into the beans.  Then season the meat and beans—it usually takes 1 ½ teaspoons more salt.
After a few minutes of simmering, the dish is ready to serve.  Ladle it into bowls, spoon a little of the remaining sauce on top and dot with avocado, cilantro, and radish.