There are many different ways the Topolobampo creative team find inspiration for their next offering. And with six tasting menus planned out for the calendar year (amidst other special events), it is absolutely paramount that the team constantly explore, question, and, ultimately, discover new sources of inspiration to build each culinary story.
To capture their process, we asked Chef de Cuisine Meagan O'Connor, Pastry Chef Jen Melendrez, and Culinary Director Zach Steen to reflect on their January research trip to Chiapas.
During their time climbing mountains and trekking through jungles, they uncovered a regional cuisine that brought back family memories, sparked a child-like sense of adventure, and taught them all something new.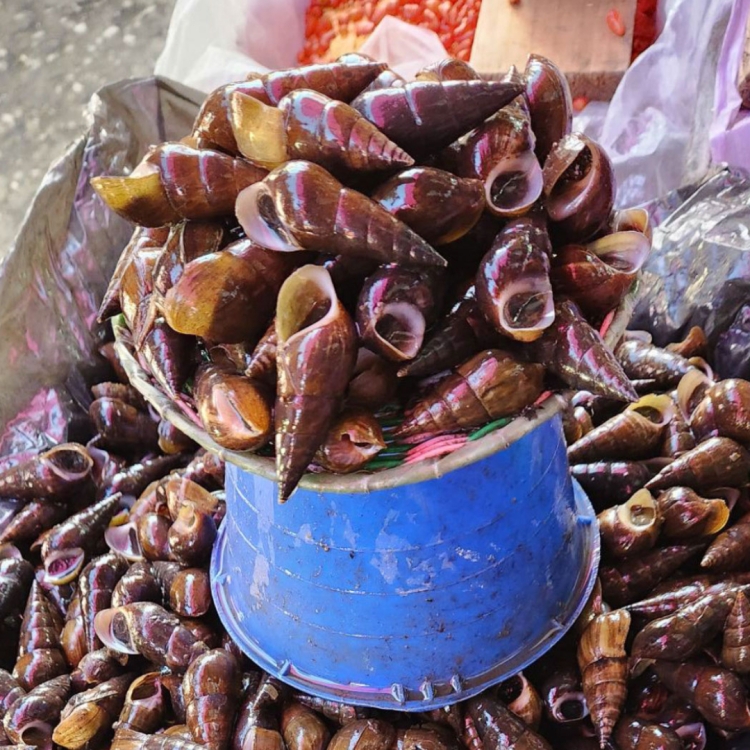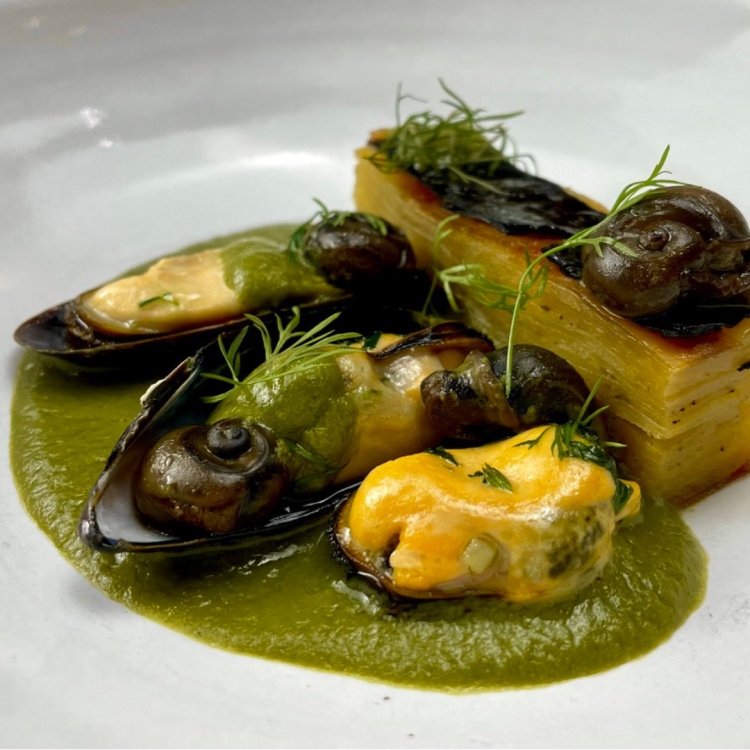 Topolobampo Chef de Cuisine, Meagan O'Connor – January 18, 2023 (Chef Meagan's Birthday)
I feel deeply connected to every dish on this menu, but I think the shote is the most meaningful to me.
When I was a kid, my parents took me out to eat often and I got to try cuisine from all over the world. I remember loving escargot the first time I tried it with its garlicky, buttery goodness.
When I ate the snails in Chiapas and saw them in the markets, I was reminded of the happiness of sharing a plate of escargot in a French bistro with people I love.
Following that memory, I wanted to replace the plainer potato in the shote with one of my family's most cherished side dishes- a potato pavé.
It's a tradition for us to make it on certain holidays – a true labor of love!
So, this dish is a nod to some great food memories for me both in Chiapas and here in Chicago. What I like most about the shote is that instead of being bathed in butter (not that there's anything wrong with that!) the seafood is enveloped in a fresh herb sauce that lets their flavors shine.
Topolobampo Pastry Chef, Jen Melendrez – January 19, 2023
Tascalate! Over the years I have helped create multiple Chiapas menus, almost always including tascalate, the beverage of toasted corn, cacao, and achiote.
I've always really loved the flavor of tascalate, but when we got to Chiapas, I realized I had only ever had the ones I made from books. So, in Chiapas, we tried it at almost all the restaurants that had it on the menu.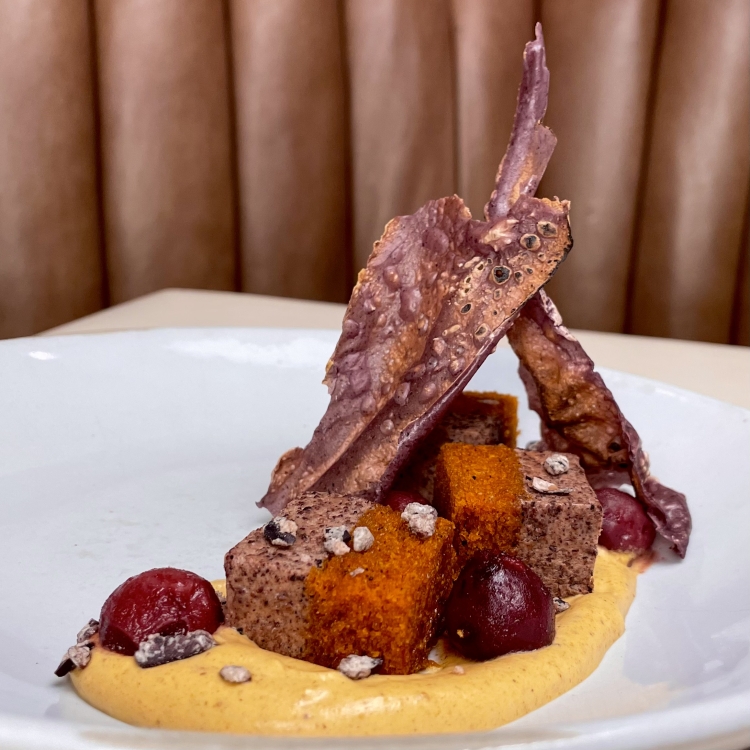 On our last full day of the trip, we combed San Cristóbal, eating and seeking out even more traditional Chiapaneco food. Finally, we ended up back at our hotel lobby, where we, very unexpectedly, had one of the best meals of the trip!
Most of the time, desserts are so similar from one restaurant to another, so I have to draw inspiration from other things like drinks or markets to make really distinctive offerings. While this dessert is certainly based on the flavors of a drink, this is a rare instance that our hotel-lobby dessert directly inspired the dish!
Culinary Director, Zachary Steen – January 20, 2023
Often in life, the thing you are searching for comes last, and it's this anticipation that always makes me appreciate it more.
Although we ate many wonderful things on our journey, our last meal was unforgettable. Not only was the service unparalleled at Tierra y Cielo, the food was something I won't soon forget.
The snacks and little tacos to start made us giddy, and the slow-cooked suckling pig made us swoon. But the real star of the show was delivered by the chef herself, Marta Zepeda (pictured below, left, next to Chef Rick): a simple bowl of the regional mole, Coleto.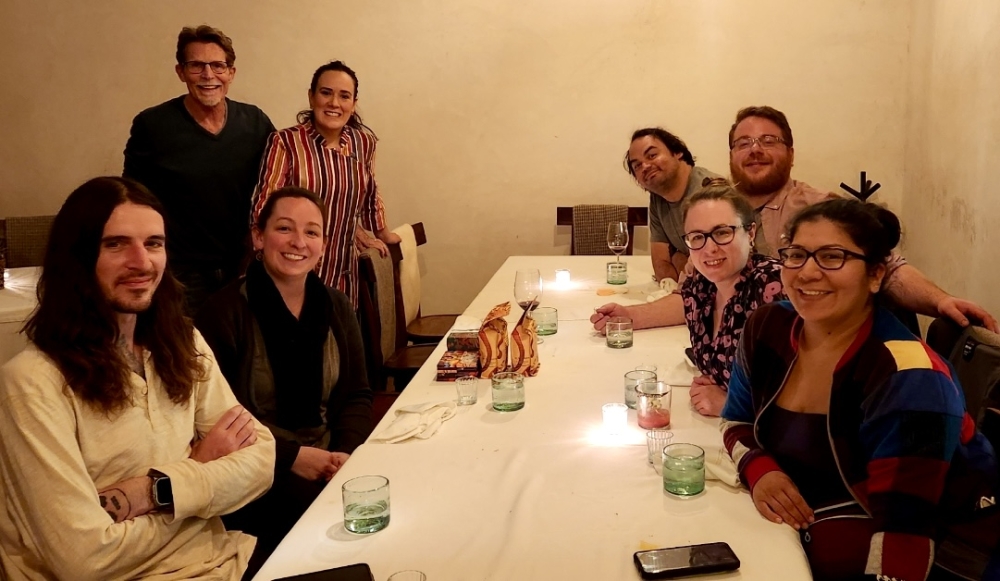 Deep and comforting, the local chocolate, roasted plantain, and three types of chiles sang in beautiful harmony. And like a siren, the flavor pulled us in – everyone's face was smeared with a content smile.
Our experience eating Chef Marta's Chiapanecan cuisine was eye-opening and intensely satisfying. It made one thing universally clear: there was no way that we were leaving Chiapas without a full and unbelievably exciting menu to share with our customers.
Our enthusiasm must have been clear because as the meal ended, Chef Marta sat with us, shared a glass of comiteco, and talked through her unique method and choice of ingredients. With close to 100 years of culinary experience within the Topolo team, learning something new in this way was a very special treat.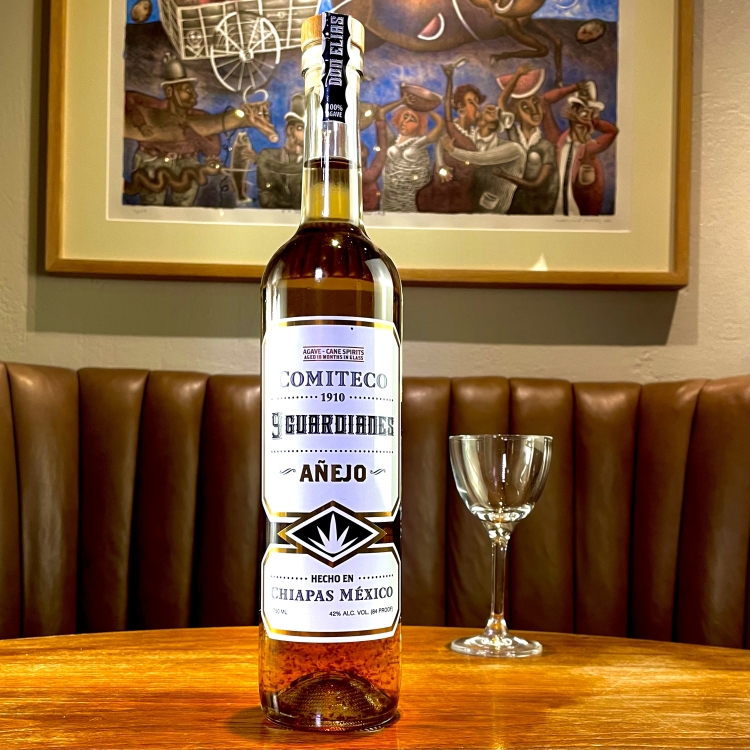 I think we do Chef Marta justice with our take on her beautiful Mole Coleto presented here with butter-basted guinea hen.
Join us at Topolobampo to uncover the mysteries of Chiapas from March 1 until April 26. Reservations can be made here: https://www.exploretock.com/topolobampo/