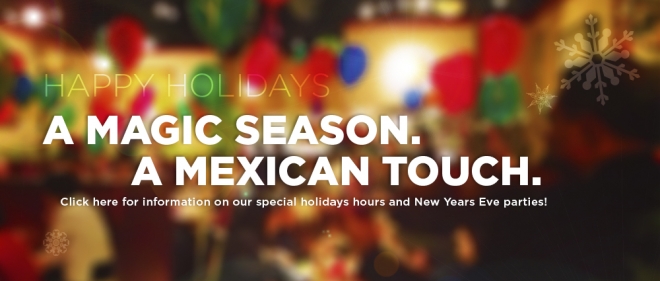 A few things to know as we head into the most wonderful time of the year:
Frontera Grill, Topolobampo, XOCO,  Leña Brava, Cruz Blanca and Fonda Frontera will be closed on Saturday, Dec. 24 and Sunday Dec. 25.
Frontera Grill, Topolobampo and XOCO (our Clark Street restaurants) are open Dec. 27 through New Year's Eve. Their annual holiday break begins New Year's Day and those restaurants will remain closed until Tuesday, Jan. 10. It's worth noting that Leña Brava, Cruz Blanca and Fonda Frontera won't be taking the same holiday break.
Speaking of New Year's Eve, did you know Frontera and Topolo throw the best fiesta in Chicago?  Our chefs cook their favorite dishes from 2016, the Champagne is flowing and our go-to mariachi band, Mariachia Real Guadalajara, provides a one-of-a-kind soundtrack to an unforgettable night. It is a blast.
Reservations, you ask? Go here for Topolo reservations and here for Frontera Grill reservations. We can't wait to see you!
Meanwhile, our friends at Leña Brava and Cruz Blanca on Randolph Street are planning their own New Year's Eve festivities. Leña is serving its regular (if you can call it that) menu of ceviches and wood-fired Baja delights, along with some special festive additions. Reservations here.
At next-door Cruz Blanca, bartenders will be tapping new specialty beers every hour on the hour from 8 p.m. until midnight. Your $50 ticket (or $40 for you good-natured early birds) gets you three drinks, passed tostaditas, and your choice of Oaxacan specialty: taco plate, cheesy shrimp encamaronadas or a giant tlayuda. (Were you at Cruz Blanca's Oktoberfest? Then you know they throw a killer party.)
As we downshift into the rhythms of the holidays, we'd like to take a moment to thank you, our loyal guests and friends, for making 2016 a year to remember. Let's ring in the new year together.