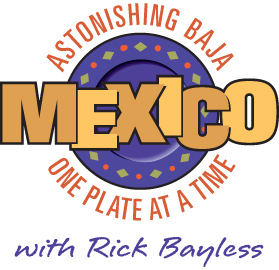 SEASON 8: ASTONISHING BAJA!
For the eighth season of Chef Rick Bayless's highly-rated cooking and travel show, we're taking our viewers from Tijuana to Cabo San Lucas to explore the cuisine and culture that makes Mexico's astonishing region of Baja California completely irresistible.
The mere mention of Mexico's sun-soaked Baja peninsula makes us dream. Flanked by the Pacific Ocean to the west and the Sea of Cortez to the east, Baja really is Mexico's undiscovered "West," with its stark desert landscapes, secluded coves and striking mountains.
Recently, some of Mexico's most talented chefs have fostered a dazzling "Baja Med" cuisine in the restaurants of Tijuana and Ensenada. In addition, the wineries of Baja California Norte are producing world-class, award-winning wines. Paired with the region's phenomenal seafood, the cuisine of Baja ranks among Mexico's finest.
src="http://vimeo.com/moogaloop.swf?clip_id=58715572&force_embed=1&server=vimeo.com&show_title=1&show_byline=0&show_portrait=0&color=ff9933&fullscreen=1&autoplay=0&loop=0" type="application/x-shockwave-flash" allowfullscreen="true" allowscriptaccess="always" width="660" height="371">
Ep. 2 - BTS Oaxaca : When in Houston from RickBayless.com on Vimeo.