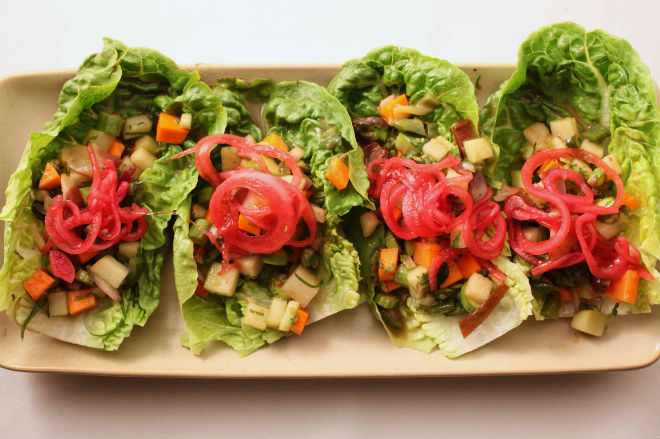 Crunchy Vegetable Escabeche Salad Klug Farm asparagus, roasted poblano chile, chayote & carrot in escabeche (Baja olive oil, sherry vinegar, garlic), jamaica-pickled knob onions, house-made duck prosciutto, little gem lettuce.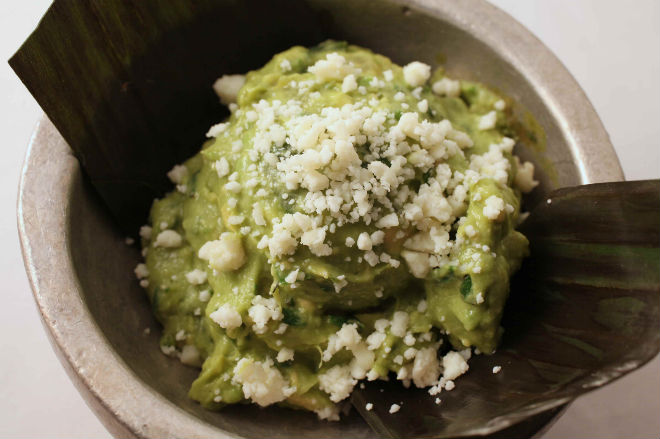 Spring Green Guacamole Michoacan avocados, roasted tomatillo, poblano chile, Bayless garden garlic chives, house-made fresh cheese.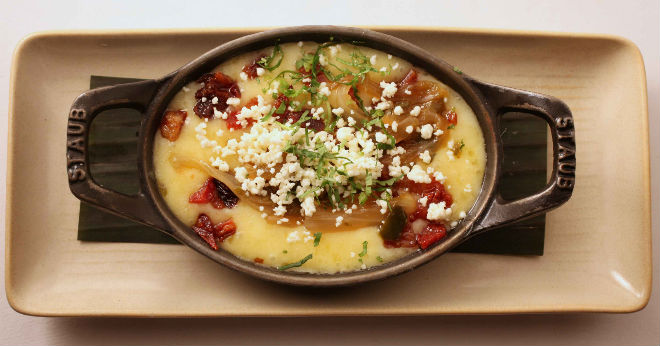 Spicy Bacon Queso Fundido Otter Creek organic cheddar, Greg's jowl bacon, chiles toreados, queso añejo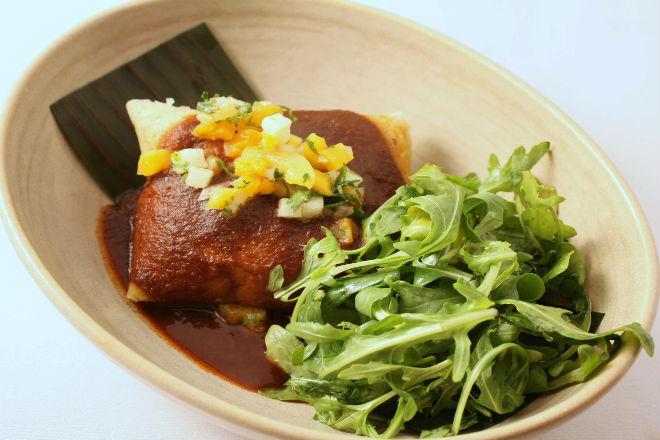 Duck Carnitas Tamal Banana leaf-steamed fresh-ground corn masa, Gunthorp duck carnitas, apricot mole (ancho, pasilla, sweet spices), apricot-mango salsa. Tangy arugula.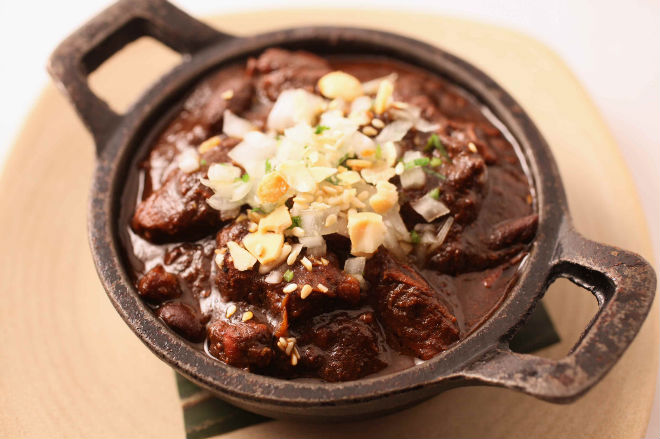 Pork & Beans in Black Mole Gunthorp pork shoulder braised in Oaxacan black mole (pasilla, mulato, tomato, tomatillo, peanuts, almonds, plantains & 13 other ingredients), Rancho Gordo ayocote beans, cilantro.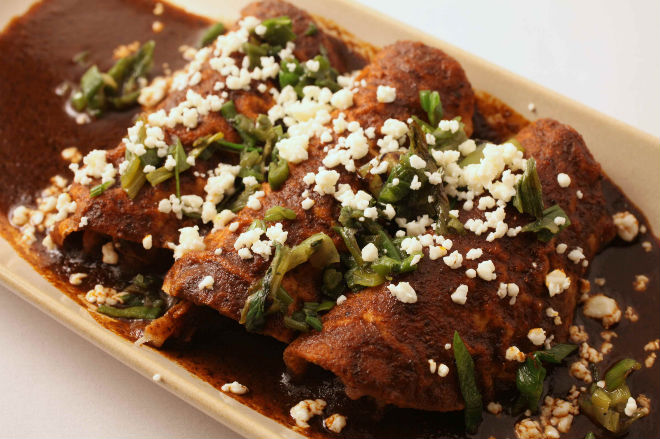 "Drunken" Goat Enchiladas Red chile-braised Pleasant Meadows goat, mezcal-infused pasilla chile "borracha" sauce, aged Mexican cheese, grilled green onions.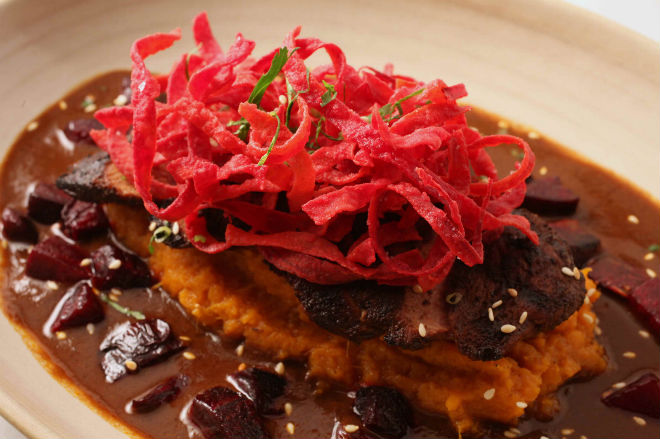 Duck in Xico Mole Grilled red chile Gunthorp duck breast, Veracruz's famous mole de Xico (mulato & pasilla chiles, dried fruit, plantain, almonds, pecans, pinenuts), red chile-sweet potato mash, crispy beet ribbons.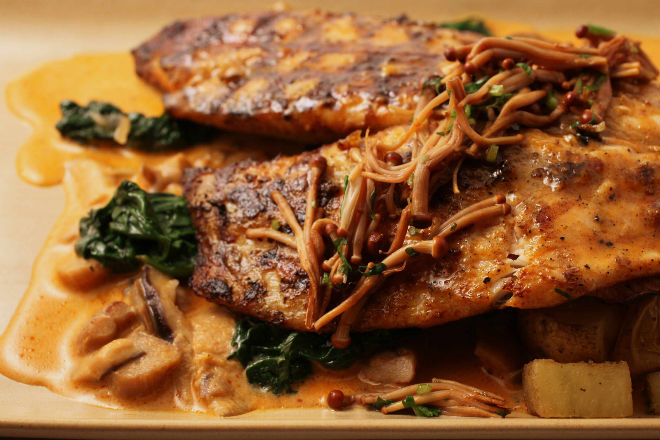 Florida Pompano in Smoky Mushroom Crema Red chile-marinated grilled Florida pompano, mushroom crema, spinach, garlicky roasted potatoes, smoked golden enoki mushrooms.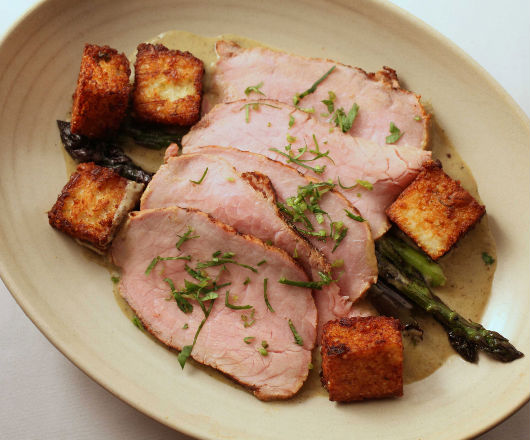 Pork Loin in Almond Green Mole Garlic-marinated grill-roasted Gunthorp pork loin, green mole almendrado, crispy corn tortitas with bacon & almonds, grilled local asparagus.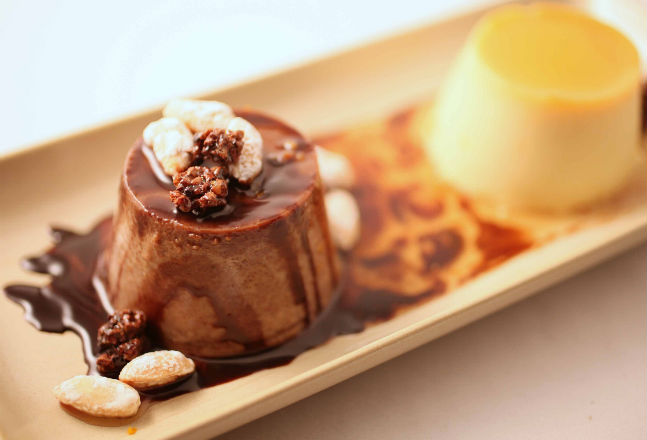 Flan X2 Creamy triple chocolate flan (70%, Oaxacan, Xoco nibs) & traditional Mexican vanilla flan. Chocolate sauce, candied almonds.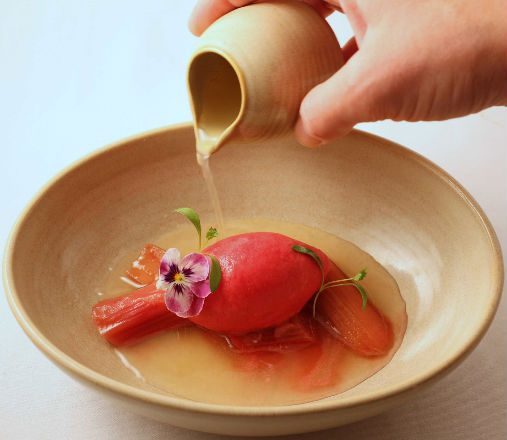 Sopa de Frutas Vanilla-poached local rhubarb, jamaica sorbet, sparkling Meyer lemon "broth" with Nichols Farm honey.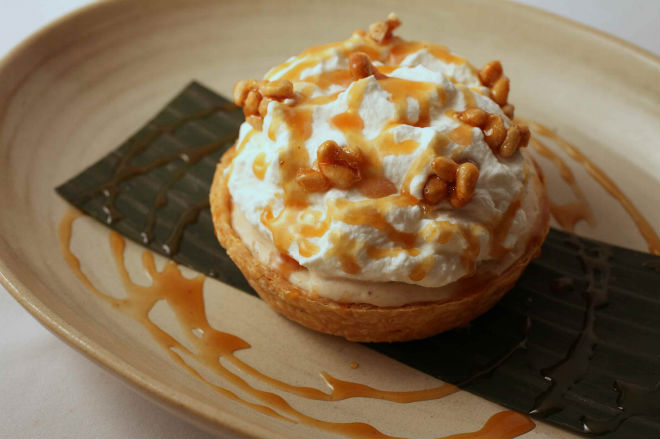 Tamarind-Orange Tart Tamarind-orange mousse, Cointreau whipped cream, tamarind caramel, candied pine nuts.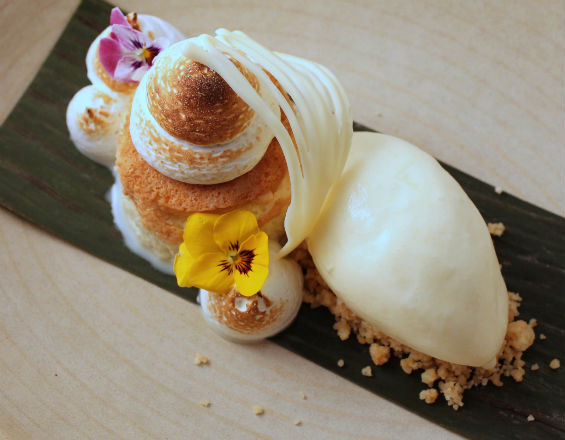 Springtime Tres Leches Cake Hoja santa-scented tres leches cake, white chocolate-Xtabentun
ice cream, toasty-gooey meringue, shortbread crumble.
There's so much #want on Frontera's new menu. An incomplete list:
Those crispy, bacon-stuffed tortitas that come with the pork.
The duck carnitas stuffed in the tamal.
VANILLA-POACHED RHUBARB
We repeat: The above list is incomplete. But scroll through the photos above and you'll soon have a long list of your own.