900 WEST RANDOLPH STREET, CHICAGO, ILLINOIS |  312-733-1975
LOCATION:
Leña Brava and Cruz Blanca are located on Randolph Street in Chicago's bustling West Loop neighborhood. Valet parking is available.
ADDRESS:
900 W. Randolph St.
Chicago, IL 60607-2208
PHONE:
(312) 733-1975
HOURS:
Tuesday-Thursday: 5:30-10 p.m.; Friday & Saturday: 5:30-11 p.m.; Sunday: 5:30-9 p.m.
Leña Brava is closed on Mondays.
Looking for Leña Brava gift cards? Shop here!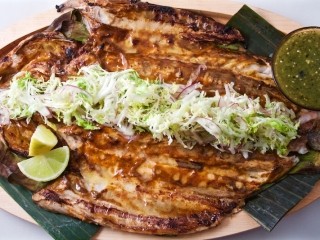 Rick and Deann Bayless, Proprietors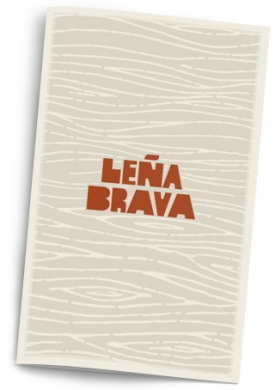 Leña Brava reservation policy: Leña takes reservations for all size parties. To make your reservation, contact the restaurant at (312) 733-1975, or use the form at right. We take reservations six months in advance, and reservations are recommended.
For private party options, contact Lisa Carlson at lcarlson@fronterahospitality.com or by calling (312) 733-1975. The Leña private dining room holds as many as 30 people. Ready to begin planning your unforgettable party? Click below and let's talk.
Fire and ice have never played so well together. Leña Brava — "ferocious wood" — takes its inspiration from the multicultural seaside elements of Baja California Norte, the region's celebration of live-fire cooking and the area's world-class wines.
The raw bar tempts with spicy aguachiles and unique ceviches while the kitchen satisfies with everything cooked on an open hearth and wood-burning oven.  With one of the country's best selections of mezcal and wines from the much-heralded Valle de Guadalupe, Leña Brava evokes the unique flavors of one of Mexico's most vibrant regions.  
Our seafood is sourced from sustainable fisheries and environmentally responsible aquaculture enterprises. Our tortillas are handmade from heirloom corn grown in Oaxaca, Mexico!
"Another Triumph for Rick Bayless" — Chicago Reader
Chicago's Best New Restaurants 2017 —  Chicago Magazine
"Rick Bayless Sings the Song of Baja" — New York Times
"Bayless on Fire at Leña Brava" — Chicago Tribune
Most Anticipated Restaurant, 2016 — Eater Chicago; Zagat; Chicago Tribune; Choose Chicago; Fox32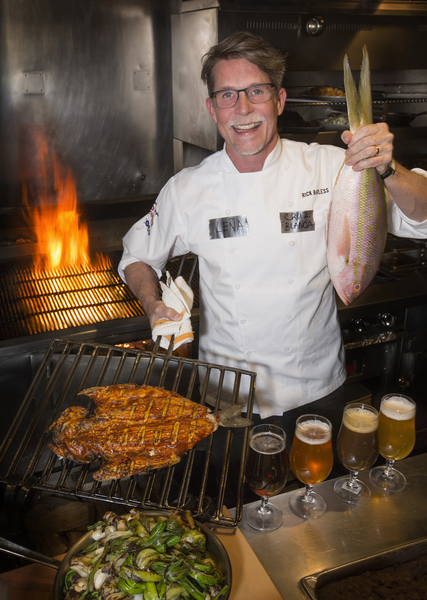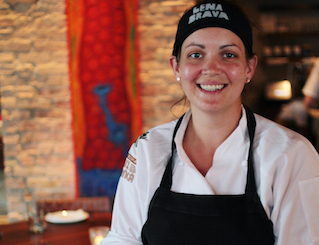 KELLY TAMM
PASTRY CHEF
Chef Kelly discovered her passion for pastry at Dinkel's Bakery, followed it to culinary school, and found mastery most recently as pastry chef at Maple & Ash.  In his review, Phil Vettel wrote that Chef Kelly's desserts look sophisticated, and taste like childhood.
Instagram tamm1kl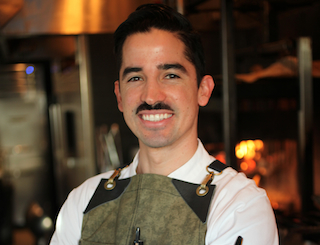 STEPHEN SANDOVAL
SOUS CHEF
Stephen has worked around the world from New Orleans to Mexico City to Argentina but is rooted by his childhood in San Diego. His father owned a car wash in Tijuana and they would go hunting together in Mexicali. Stephen has been braving Lena Brava's roaring fire with a GoPro camera, filming his day to day culinary adventures.
Instagram chefsand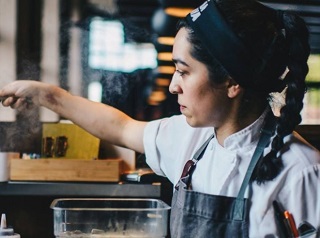 ILIANA LOZA
SOUS CHEF
Born and raised in Chicago, Chef Iliana is inspired by the bounty of seasonal produce and locally raised protein to be found in the Midwest, and utilized in new ways to create Lena Brava's baja cuisine.  Following in the footsteps of her father, who also cooked on the line and now runs a pasta shop, Chef Iliana has been preparing for this role her entire life.
Instagram ila2011