900 WEST RANDOLPH STREET, CHICAGO, ILLINOIS |  312-733-1975
LOCATION:
Leña Brava and Cruz Blanca are located on Randolph Street in Chicago's bustling West Loop neighborhood. Valet parking is available.
ADDRESS:
900 W. Randolph St.
Chicago, IL 60607-2208
PHONE:
(312) 733-1975
HOURS:
Tuesday-Thursday: 5:30-10 p.m.; Friday & Saturday: 5:30-11 p.m.; Sunday: 5:30-9 p.m.
Leña Brava is closed on Mondays.
Looking for Leña Brava gift cards? Shop here!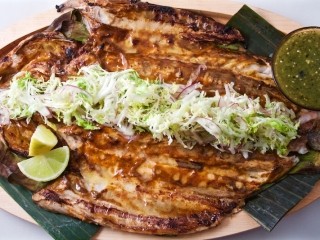 Rick and Deann Bayless, Proprietors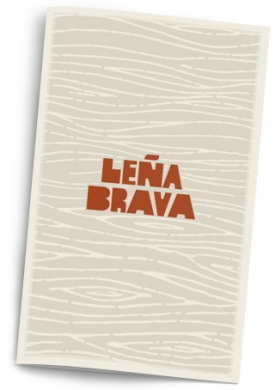 Leña Brava reservation policy: Leña takes reservations for all size parties. To make your reservation, contact the restaurant at (312) 733-1975, or use the form at right. We take reservations six months in advance, and reservations are recommended.
For private party options, contact Lisa Carlson at lcarlson@fronterahospitality.com or by calling (312) 733-1975. The Leña private dining room holds as many as 30 people. Ready to begin planning your unforgettable party? Click below and let's talk.
Fire and ice have never played so well together. Leña Brava — "ferocious wood" — takes its inspiration from the multicultural seaside elements of Baja California Norte, the region's celebration of live-fire cooking and the area's world-class wines.
The raw bar tempts with spicy aguachiles and unique ceviches while the kitchen satisfies with everything cooked on an open hearth and wood-burning oven.  With one of the country's best selections of mezcal and wines from the much-heralded Valle de Guadalupe, Leña Brava evokes the unique flavors of one of Mexico's most vibrant regions.  
Our seafood is sourced from sustainable fisheries and environmentally responsible aquaculture enterprises. Our tortillas are handmade from heirloom corn grown in Oaxaca, Mexico!
"Another Triumph for Rick Bayless" — Chicago Reader
Chicago's Best New Restaurants 2017 —  Chicago Magazine
"Rick Bayless Sings the Song of Baja" — New York Times
"Bayless on Fire at Leña Brava" — Chicago Tribune
Most Anticipated Restaurant, 2016 — Eater Chicago; Zagat; Chicago Tribune; Choose Chicago; Fox32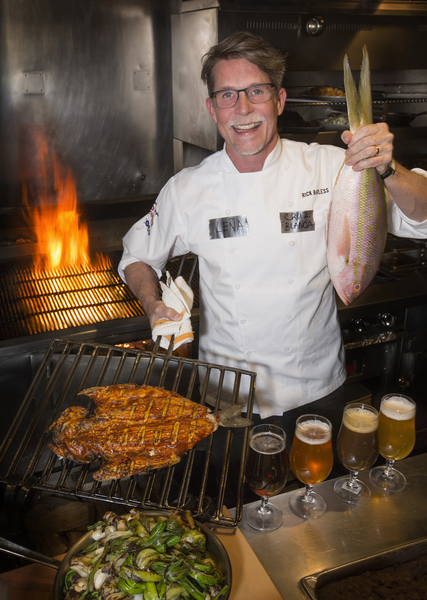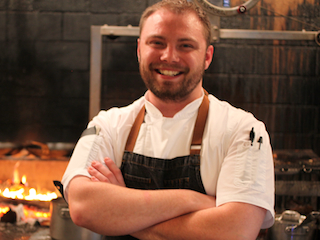 CHRIS RIPLEY
PASTRY CHEF
As a young man in Kentucky, Chef Chris got a taste for fine dining at his first restaurant job, working in the kitchen at Louisville's legendary Jack Fry's. At an even younger age, picking fruit from his grandma's apple and pear trees, and watching as she baked homemade pies, Chris found his love for pastry. Instagram thetalented_mr_ripley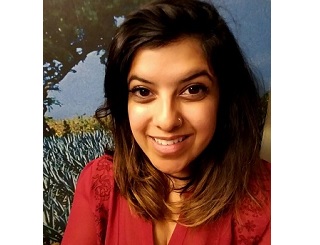 NOSHEEN KHAN
BAR MANAGER
Nosheen is all about the business: so much so, that in college at Saint Mary-of-the-Woods she majored in business (and marketing.) That being said, there has been a noticeable uptick in fun since Nosheen joined the staff.  Nosheen joined us from Formento's, our delicious Italian restaurant neighbor just across Randolph Street. Instagram noshiface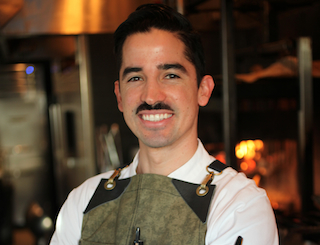 STEPHEN SANDOVAL
SOUS CHEF
Stephen has worked around the world from New Orleans to Mexico City to Argentina but is rooted by his childhood in San Diego. His father owned a car wash in Tijuana and they would go hunting together in Mexicali. Stephen has been braving Lena Brava's roaring fire with a GoPro camera, filming his day to day culinary adventures. Instagram chefsand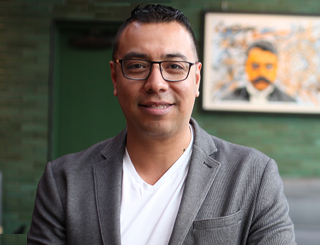 CESAR AGUILAR
GENERAL MANAGER
Mexico City born and raised, Cesar came to the Frontera family first as AGM on Clark Street, where he earned top marks with the veteran staffs of Frontera Grill, Topolobampo and Xoco. Now at the helm of both Leña Brava and Cruz Blanca, Cesar draws on his experience running multiple concept ventures, such as the Chicago Symphony Orchestra's food and beverage contract, managing the first tier restaurant and fine dining private donors' club. Here at 900 Randolph, Cesar directs the symphony of our service.