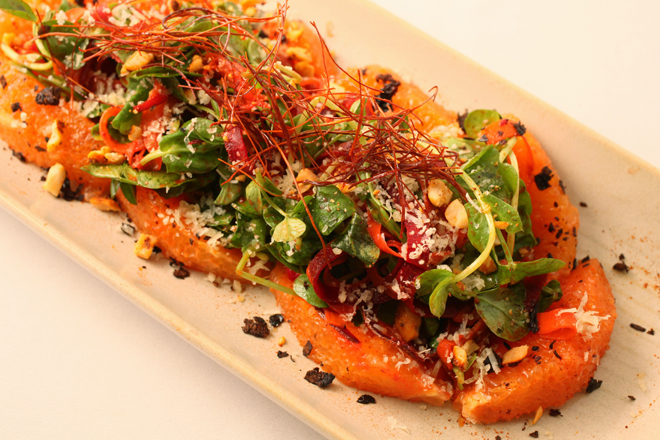 Almost Spring Salad Spiral cut beets & carrots, peashoots, cara cara oranges, ancho-citrus vinaigrette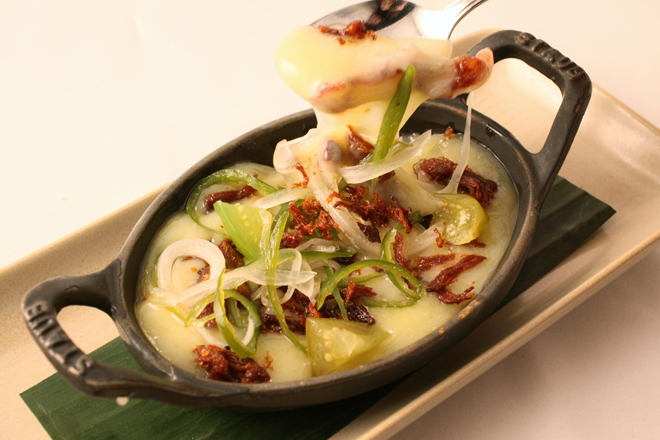 Pork Carnitas Queso Fundido Otter Creek organic cheddar, crunchy pork carnitas, pickled
serrano, onion, pickled tomatillo.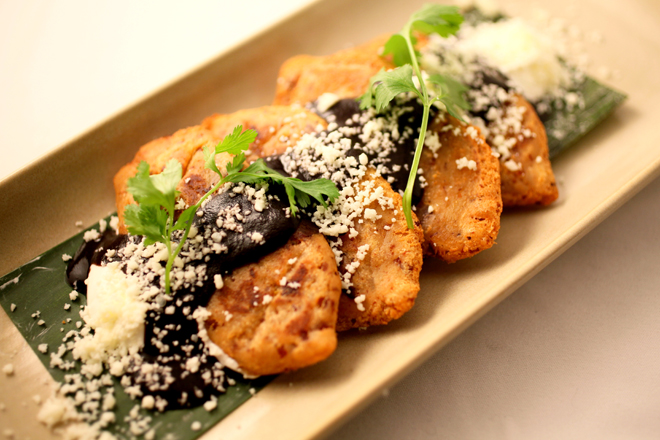 Tlacoyos Bacon-studded corn masa ovals, sweet plantain filling, chipotle-black bean sauce, homemade crema, añejo cheese.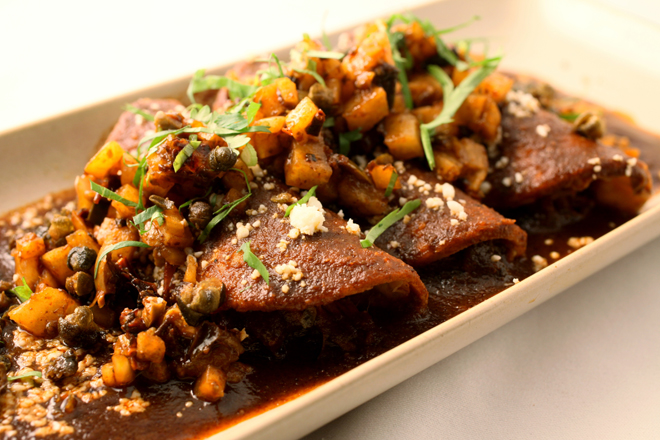 Goat Enchiladas Red-chile braised Pleasant Meadows Farm goat, rustic pasilla chile sauce, manzanilla olive salsa, crispy capers, añejo cheese.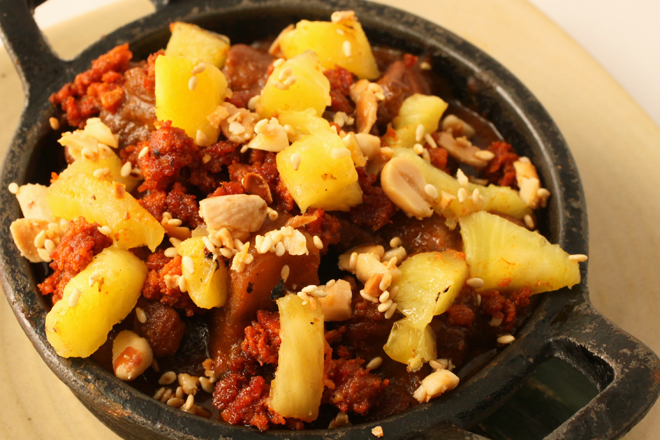 Pork in Manchamantales Grilled Gunthorp pork shoulder, Oaxaca's mole manchamanteles (ancho, almonds, peanuts, pineapple), Mexican purple sweet potato, plantain, chorizo.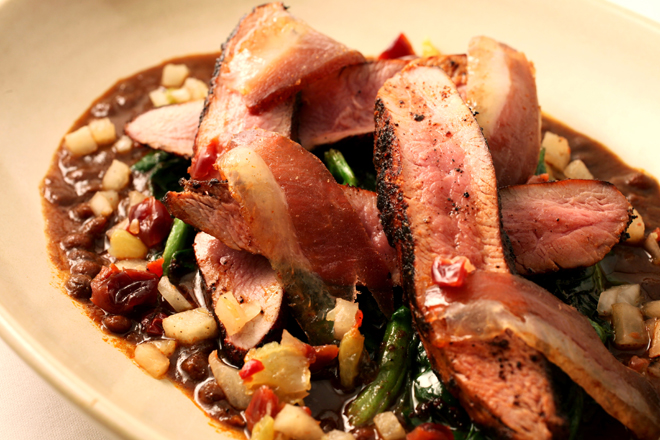 Duck in Ancho Lentil Sauce Red chile-marinated grilled Gunthorp duck breast, ancho-lentil sauce, Snug Haven winter spinach, homemade duck prosciutto, mezcal-laced cherry salsa.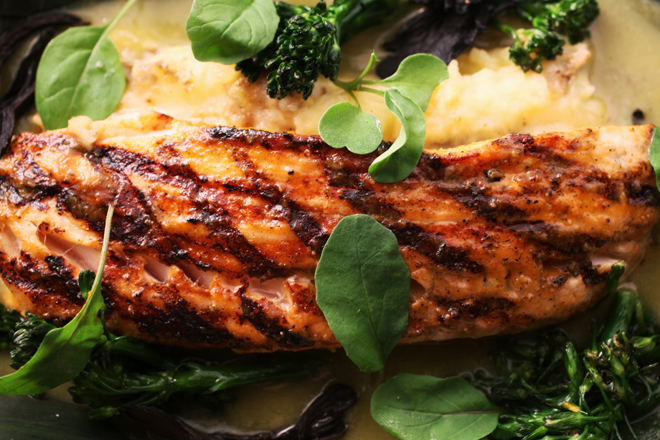 Dayboat Catch in Oaxacan Green Mole Garlic-marinated dayboat catch, Oaxacan green mole (tomatillo, serrano, hoja santa), grilled black trumpets, baby broccoli, Bayless Garden micro arugula.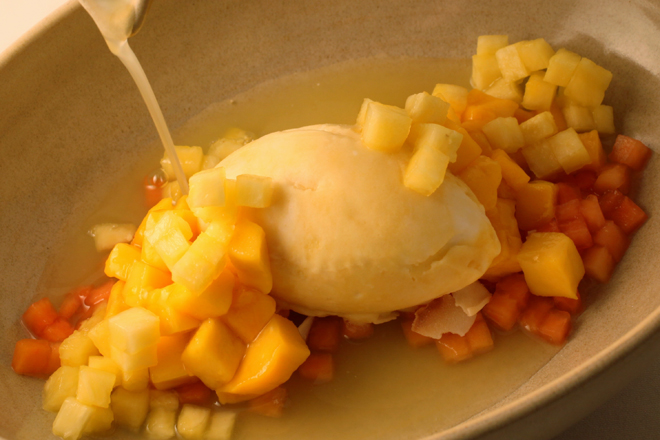 Spring Sopas de Fruta Creamy mango-coconut swirl sorbet, papaya, honey Manila mango
scented with Bayless Garden kafir lime, sparkling Beck Grove lime- pineapple "broth."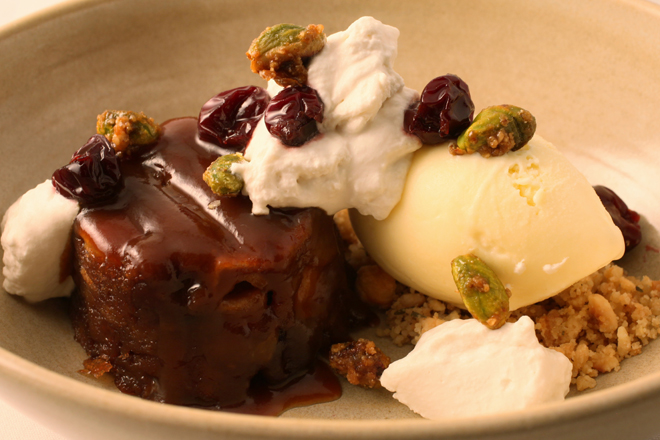 Capirotada Warm Mexican Lenten bread "pudding" infused with red wine, sweet spices & dried
fruits. Queso añejo ice cream, brandied Seedling Farm tart cherries, candied pistachios.
What can we say? We're realists here at Frontera. So when it came time to name our new beet-carrot-pea shoots salad, we didn't call it our "Spring Salad"—we called it our "Almost Spring Salad." Because, trust us, we've lived in this city for a long time—the snow could come back at any second.
Elsewhere on the new Frontera menu we've got some stuff that's downright celebratory: Bacon-studded tlacoyos stuffed with plantains; enchiladas stuffed with red-chile braised goat; fresh fish cloaked in Oaxacan green mole.
And over on the dessert menu: a "Spring Sopa de Fruta."
(Pastry chefs are usually the more optimistic ones.)